It's the start of the Summer of SFR! And today I have Leslie Chase here to talk about her novel, AURIC, which is the first book in the Crashland Colony Romance series.
Who is Leslie Chase?
"I'm Leslie, and I write steamy, exciting SFR from my home in Scotland. I love the genre, but I also love the community of authors and readers: everyone is friendly and it makes events like this possible!"
I agree that the SFR community is very welcoming and friendly! We love this genre to pieces.
I asked Leslie, "What inspired you to write AURIC?"
Leslie replied…
"I started writing Auric for NaNoWriMo (National Novel Writing Month) with just the image of a woman walking out onto the deck of a spaceship, a huge white star shining behind her and a cat at her side… as an alien warrior crashes his fighter into the ship. That's where Auric and the Crashland Colony Saga began, and though it changed a lot in the writing, the basics of how Auric and Tamara met stayed the same. She's the mechanic who dug him out of his fighter, and he's the alien who came to warn her that her ship would soon be under attack.

Their romance shapes the book, and sets the tone for the sequels, Torran and Ronan.

I fell in love with the world I built for them to explore, Crashland, and I'm now writing the second trilogy set there. It's an exciting, dangerous place to explore, but there are plenty of chances mates to find each other, face challenges together, and fall in love. I know a lot of readers have enjoyed the setting, too, and it's wonderful to have created something people like.

But probably my favorite thing about writing Auric (and the other Crashland Colony Romances) are the holographic companion animals the humans have. Tamara's Mr. Mews, a holographic cat, was a hit with the readers, and having them around let me do interesting things I couldn't have otherwise. Plus, the animals are just so cute!"
That's a very powerful image to start a story with! I love when authors include animals in their stories too, holographic or real!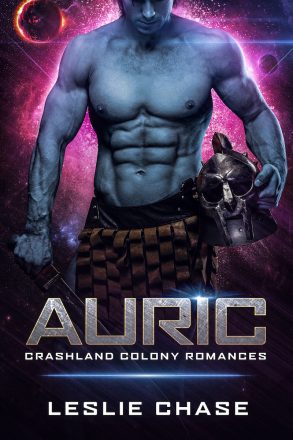 Crashed on an unexplored planet, with only an alien warrior and a holographic cat for company… what's a girl to do?
Tamara expected the trip to Arcadia Colony to be safe and boring. And it is — until an impossibly hot alien warrior crashes into the ship, bringing a warning that only Tamara believes. Helping the rugged alien means mutiny… but the threat he's warning about is worse.
Auric turned his back on the Silver Band when they abandoned honor in favor of piracy. Drawn by the riches of the colony ship, the Band are on their way — and once they arrive, the humans are doomed. Now that he's met Tamara, Auric knows he can't let anything happen to her. She's the woman fate has chosen for him, the woman he would give his life to save.
When the humans and their alien attackers are stranded on a forbidden planet, Auric and Tamara are flung together on a journey to find other survivors. Will fate be enough to keep Auric and Tamara together? Or will the dangers of the planet tear them apart?
Auric is book one of the Crashland Colony Romances. Each book is a complete science fiction romance story with no cheating, no cliffhangers, and a happy ending guaranteed.
Check out AURIC on Amazon via Books2Read…
Via Books2Read
---
Find This Author Online
Learn more about Leslie Chase on…
Website: http://www.leslie-chase.com
Facebook: https://www.facebook.com/groups/712015315918628/
Bookbub: https://www.bookbub.com/profile/leslie-chase
Twitter: https://twitter.com/lchasewrites
---