It's here! Today's the day that the Flyght Series comes to a close! I must admit that I feel bittersweet about this. I had no idea how attached to Vivian and this world I would become when I penned that first chapter over a year ago. I also had no idea that I could publish a six-book series in the course of a school year, a year that also involved a global pandemic and upheaval in the United States as well.
In this final book of the Flyght Series, we get a chance to see Vivian at her best. We see her think on her feet, adapt to the world around her, and fight for what she wants and believes in. So far the reception for this final book has been great! Readers are really happy with how the series ends. I hope you'll love it too.
But if you loved this world, then never fear! There will be one more adventure with Vivian next year in an anthology, and there will also be another series featuring Skylar! I'm not done with this universe, so I hope you'll stick around for the long haul.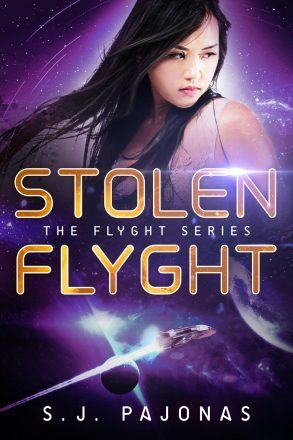 One last mission to secure her birthright. A frozen world and a sinister conspiracy that may cost her land… and her life.
Vivian will do whatever it takes to finally be victorious in the battle for her family farm. So when her benefactor insists she infiltrate a hostile military base on a treacherous ice planet, she has no choice but to agree. But when two of her crew are apprehended during the operation, her focus shifts to desperate survival.
Outmanned and pinned behind enemy lines, Vivian's options for escape dwindle. But everything she believes in turns on its head when she makes a shocking discovery in the base's top-secret lab.
Can Vivian and her team evade a deadly trap to win back her legacy?
STOLEN FLYGHT is the sixth and final book in the star-spanning reverse harem Flyght Series. If you like galactic heists, mind-blowing twists, and nonstop action, you'll love S. J. Pajonas's soaring climax.
Note: This is a slow-burn romance series!
Amazon Apple Books Nook Kobo Google Play Smashwords
Direct via PayHip



Have questions about buying direct?
Enjoy STOLEN FLYGHT! I'll see you around here next week for the start of the Summer of SFR!