Today, I have K. M. Fawcett here to talk about her book CAPTIVE, the first in a thrilling sci-fi romance series, that also happens to be on sale RIGHT NOW. So, I hope you'll pick it up if it interests you! I've known K. M. a long time now (let's not talk about JUST how long because it's been ages) and she continues to be a wonderfully helpful and kind author. I just adore working with her!
I asked K. M., "How did you get the idea for CAPTIVE?"
K. M. replied…
The idea for CAPTIVE (The Survival Race Book 1) came from watching the rescue of mistreated horses on an episode of Animal Cops. It broke my heart to see those beautiful animals neglected and starved so thin their rib cages showed. How would their owners like being penned up and abused like that? This got me thinking. What if humans were pets, and someone — aliens perhaps — bred us and gambled upon us for sport? I have no idea what happened in the rest of the episode. I was busy cogitating an alien abduction story with a broken alpha gladiator forced to kill for entertainment, and his newly arrived, fiery mate who refuses to breed warriors for the Survival Race, a blood sport where the last man alive wins.
Wow. I love hearing how random events spark new stories! I can definitely see how K. M. came up with this idea after watching that show about horses. With authors, they never know where inspiration will come from!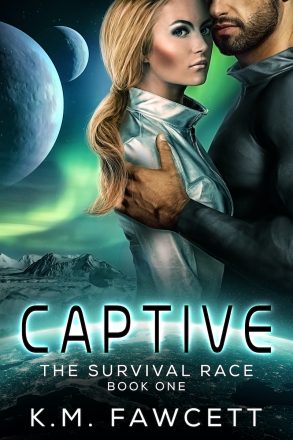 Rookie cop Addy Dawson must escape her alien captors. Caged with a brazen alpha gladiator claiming to be her mate, Addy refuses to breed warriors for the Survival Race—a blood sport where the last man alive wins. Nothing and no one will stop her from finding a way home, including the exasperating rogue determined to seduce her.
Years of killing for entertainment have turned Max into a hardened beast. The only time he feels human is when at stud. But when a fiery woman from his home world rejects him, her rebellious spirit awakens a part of his soul he thought long dead.
Bound together by a desire for freedom, Addy and Max will risk torture or worse to break out. But the hunted pair will never find refuge unless they can learn to trust each other with their lives…and their hearts.
Check out CAPTIVE on…
Amazon Nook Apple Books Kobo
---
Find This Author Online
Learn more about K. M. Fawcett on…
Website: http://www.kmfawcett.com
Facebook: https://www.facebook.com/km.fawcett
Bookbub: https://www.bookbub.com/authors/k-m-fawcett
Goodreads: https://www.goodreads.com/author/show/6456914.K_M_Fawcett
Amazon: https://www.amazon.com/K-M-Fawcett/e/B00B78JG36/
Twitter: https://twitter.com/KMFawcett