Happy Friday everyone! Just wanted to alert you that STOLEN FLYGHT is currently available for pre-order! We're a little less than T minus ONE MONTH until it's finally in your hands. Don't forget to pre-order it!
I thought SILENT FLYGHT was the hardest book to write, but STOLEN FLYGHT takes the cake. I kept having to give myself extra time to really get through the writing process of this book. Vivian has a very important mission to accomplish, and she's SO CLOSE to buying the family farm back. You know that anticipation that comes right before you finally get to do something you've waited months for? I felt it both for myself writing the book and for Vivian as she made it to the last act. Oh! And for those who have read ALL my books, there are some Easter eggs in here too. I hope you catch them!
Last books in a series are always a bit sad. I've grown to love the characters and they've become a part of me. Saying goodbye is not easy! But rest assured, this is not the end of seeing them. I've already begun brainstorming Skylar's series and what will happen to her. I plan to write it so people can pick up either series and start reading without having to read the other. But there'll be so much more to gain from reading both! Please stay tuned! I'm excited you're here for the ride!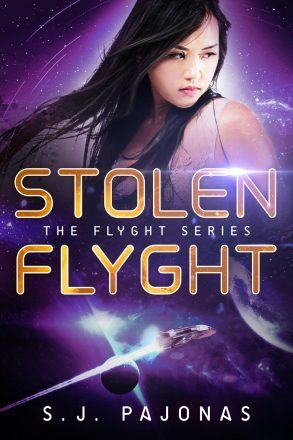 One last mission to secure her birthright. A frozen world and a sinister conspiracy that may cost her land… and her life.
Vivian will do whatever it takes to finally be victorious in the battle for her family farm. So when her benefactor insists she infiltrate a hostile military base on a treacherous ice planet, she has no choice but to agree. But when two of her crew are apprehended during the operation, her focus shifts to desperate survival.
Outmanned and pinned behind enemy lines, Vivian's options for escape dwindle. But everything she believes in turns on its head when she makes a shocking discovery in the base's top-secret lab.
Can Vivian and her team evade a deadly trap to win back her legacy?
STOLEN FLYGHT is the sixth and final book in the star-spanning reverse harem Flyght Series. If you like galactic heists, mind-blowing twists, and nonstop action, you'll love S. J. Pajonas's soaring climax.
Pre-order STOLEN FLYGHT on…
Amazon Apple Books Nook Kobo Google Play Smashwords
STOLEN FLYGHT will be available on June 19, 2020. I hope you enjoyed the series!