What happened to April? I swear that March was an eon long, but April flew right on by. Posting has been light here on the blog because the days just slip away. I need to get better about posting more in May… Let's make that a goal!
What Happened With April's Goals?
Finish second draft Flyght Book 6. Done. And I'm halfway through copy edits now.
Setup the website for my pen name. Didn't do that this month. Maybe when my freelance is complete.
Close out my Move Rings every day on my Apple Watch. This is the red ring on each day… My streak continues!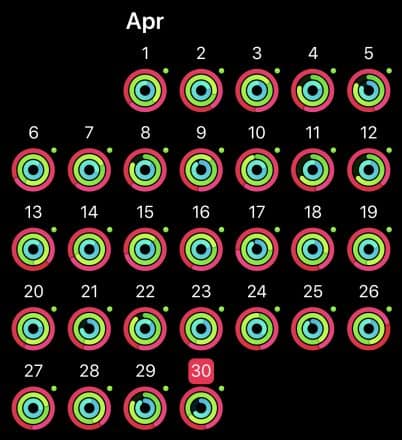 Keep my kids sane through this coronavirus isolation. We're trying here. Lots of fun foods and activities are the only things holding us all together.
Make more masks and scrub caps. I made a few more of these and then I was just done. Sewing is such a pain.
Audiobooks, reading, and knitting. I've been listening to audiobooks and reading ebooks. I've also been knitting on Fridays.
Finish my Space Masterclass. Still haven't done this. Watched a few more sessions, but my husband and I also started the Mexican Cooking Masterclass and finished it, so…
Goals For May
Finish copy edits Flyght Book 6 and send off to proofreader. I have some notes, not many, from my first readers to incorporate into the copy edits. I started copy edits ahead of their notes and I'm now over halfway through this task. I should be done by May 8th, if all goes well. Then I can send it off to my proofreader and get it to ARC readers before the 20th.
Continue with freelance work. I have decided to revitalize my web design and development business now that I'm writing for hobby. I'm currently working on a website for a fellow author that's similar to SFR Station but for a different related genre. Once this website is done, hopefully in June (?), I will be redesigning my publisher website and developing a website for my freelance business on a domain I've used before for the same business. Then I'll build a site for my pen name. Building all of these sites will be a large part of my portfolio so I can get a few clients every year.
Close out my Move Rings every day on my Apple Watch. Let's keep the streak going!
More of keeping my kids sane through this coronavirus isolation. There was so much we were supposed to be doing right now! Band and vocal concerts. Art shows. Field Day. I hope we'll be able to keep busy at home without all the fun stuff.
Update the blog more often. I feel like I've been pretty good about this, but I can be better!
Audiobooks, reading, and knitting. I'm starting a new knit! And I want to keep listening to audiobooks. I have a lot of them.
Finish my Space Masterclass. Maybe this is the month I finish.
Have a great May everyone! Stay home and stay safe!