I have a new release today! SILENT FLYGHT, the fifth book of the Flyght Series, is now available for purchase! If you pre-ordered it, it should be on your ebook readers already. There will not be a paperback available for this book.
When I scheduled this release, I had no idea I'd be sitting at home in the middle of a pandemic. Usually, I go out and treat myself to a nice breakfast on my release days. But, as usual, I'm home today, helping my kids with schoolwork and making sure everyone is fed. I'm not sure what I'll do to celebrate, but I'll figure something out! I'll be sure to post about it on Instagram for everyone.
This is the second to last book of the series… and, as such, it was the hardest book of the series to write. Vivian has a rough time in SILENT FLYGHT. She's met with her biggest mistake to date, and she's only a week or two away from the auction of her home and property. So, of course, everything goes wrong! You know that saying, "It's always darkest before the dawn?" Yeah. Vivian does not get a break in this book. At all.
But I promise an exciting ending is but a book away! Book 6 is with readers right now, and I think you're going to love it.
I really hope you enjoy SILENT FLYGHT. Have a great weekend reading, everyone!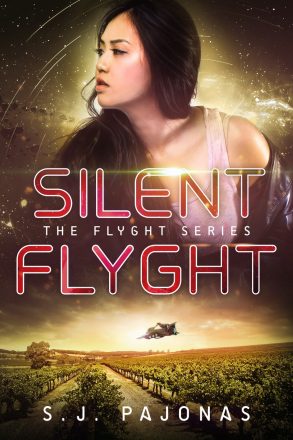 In need of cash. Running out of time. A desperate play to protect what's hers…
Vivian Kawabata has finally reached her breaking point. The plucky starship captain is doing everything she can to ensure her treasured family land isn't stolen. But she's shocked to learn they will auction the property in only two weeks, and she doesn't have enough credits to compete.
Scrambling to forge a revised plan to save her inheritance, Vivian's convinced the only solution is to add a new benefactor to her sexy stable of suitors. But with a rival sabotaging her business at every turn, she fears even a wealthy man's help will come too late.
Can Vivian preserve her birthright before it's snatched away for good?
SILENT FLYGHT is the fifth book in the sultry Flyght Series of sci-fi reverse harem romance. If you like epic space sagas, smoking-hot men, and one shocking twist after another, then you'll love S. J. Pajonas's galactic adventure.
Note: This is a slow-burn romance series!
Amazon Apple Books Nook Kobo Google Play Smashwords
Direct via PayHip



Have questions about buying direct?
Enjoy SILENT FLYGHT! I'll see you around here next week!