Happy Friday everyone! Just wanted to alert you to SILENT FLYGHT which is currently available for pre-order! I've had it up for pre-order for a while, but we're coming up on T minus ONE MONTH until it's finally in your hands. Don't forget to pre-order it!
SILENT FLYGHT was the hardest book to write. You know how things always hit rock bottom before they get better? Well, this is the second-to-last book of the series so Vivian sees some real lows in this book. But don't worry. She has her network to help her get through the hard times. I love to torture my characters, but I also love to bring them back up, stronger than before!
We're close to the end! And I'm almost done writing Book 6. Just 3 more chapters to write and I can take a break before revisions. Expect Book 6 to be out in June and the pre-order to go live for that at the beginning of April!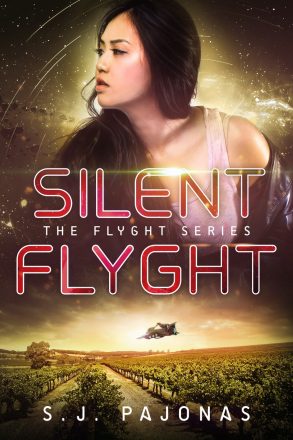 In need of cash. Running out of time. A desperate play to protect what's hers…
Vivian Kawabata has finally reached her breaking point. The plucky starship captain is doing everything she can to ensure her treasured family land isn't stolen. But she's shocked to learn they will auction the property in only two weeks, and she doesn't have enough credits to compete.
Scrambling to forge a revised plan to save her inheritance, Vivian's convinced the only solution is to add a new benefactor to her sexy stable of suitors. But with a rival sabotaging her business at every turn, she fears even a wealthy man's help will come too late.
Can Vivian preserve her birthright before it's snatched away for good?
SILENT FLYGHT is the fifth book in the sultry Flyght Series of sci-fi reverse harem romance. If you like epic space sagas, smoking-hot men, and one shocking twist after another, then you'll love S. J. Pajonas's galactic adventure.
Pre-order SILENT FLYGHT on…
Amazon Apple Books Nook Kobo
SILENT FLYGHT will be available on April 17, 2020. Google Play and Direct will be available on release day. I hope you're enjoying the series already!