This is the second to last Book Chat of the year! I'll have one more before the end of December, as I'm getting a lot of reading and audiobooks in right now.
Today I have three audiobooks for you! I actually did read one more book on my kindle but it's no longer for sale on Amazon, as the author is re-editing it. I'll post it about it in the future if it comes back up for sale.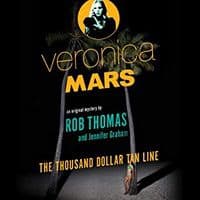 VERONICA MARS: THE THOUSAND-DOLLAR TAN LINE by Ron Thomas and Jennifer Graham
I remember that I got this audiobook on a whim during a sale, and I'm so glad I did. It was like being back in the Veronica Mars universe without having to invest in sitting through another season on the TV. (FWIW, I haven't seen the newest season on Hulu.) Kristen Bell did a fantastic job as narrator on this book, and I was suitably surprised by the outcome of the mystery. It had plenty of twists and turns to keep me satisfied. And of course, the story had the same biting wit and great writing that I came to love about the show. I just wish there were more!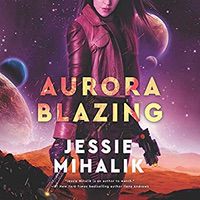 AURORA BLAZING by Jessie Mihalik
I loved the first book in this series, so I immediately pre-ordered the second book. But when it came time to sit down and read, well, there was NO TIME to sit down and read. Sigh. Instead, there was plenty of outdoor walking, so I ponied up and bought the audiobook too. I'm glad I did! The narrator did a good job of pulling me into the world, and I was right back in the universe Mihalik built in the first book. Bianca's story was fast-paced and action-packed, and the enemies-to-lovers storyline was believable and fun. I can't wait for the last book in this series!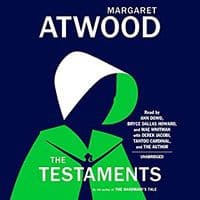 THE TESTAMENTS by Margaret Atwood
I love THE HANDMAID'S TALE. It is one of my long-time favorite books. So I was excited when I heard there was a sequel coming once the show on Hulu had gained some steam. I pre-ordered this book and then ended up borrowing the audiobook from the library too. I listened to this feverishly. The narration was amazing. The actress who plays Aunt Lydia on the Hulu show, Ann Dowd, did the parts from Aunt Lydia in the book. Hearing her voice made it all the more real. Other famous narrators included Bryce Dallas Howard and Derek Jacobi. It was sooooooo good. And I was super pleased with the way the story ended too. It gave me a satisfactory happy ending. Definitely pick this up if you are a fan of THE HANDMAID'S TALE.
I enjoyed all of these books! Tell me, what are you reading and loving?