For my 50th Book Chat, it feels appropriate to review this amazing collection of speculative fiction books that I got on a whim one day when I was clicking around Amazon. This is one of the only times I have EVER clicked on a banner ad on Amazon. I'm actually kind of surprised I did! Somehow, the ad image struck a chord with me? Don't know. Anyway, it feels like a happy accident now because I loved all the books in this collection, and it introduced me to some authors I think I'll have to take a second look at.
The FORWARD collection was curated by Blake Crouch, author of RECURSION (check out the whole collection here). He says in the epilogue to each book that he was out driving with his partner one day and they were discussing emerging technologies and how they couldimpact our world. He got the idea to ask a few authors he admires to pick an emerging technology and extrapolate a story from it! The results were a series of very interesting stories…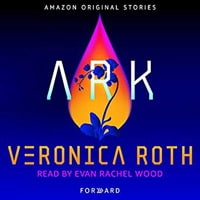 This was the first one I listened to and it was the first in the series. I really enjoyed the quiet nature of this story about the end of the world. An asteroid is coming to wipe out the Earth. Everyone knows it's coming. They know the date and time of the end. So all of Earth is sending off Arks to find a new Earth. In the meantime, there are still scientists on Earth, near the North Pole, who are cataloging as much of Earth's diverse nature as they can. They'll send this data off with everyone on the arks, and those people who decided not to go, they stay behind until the end. This was a poignant look at survival from one woman's point of view. This was narrated by Evan Rachel Wood from WESTWORLD. She has such a great voice.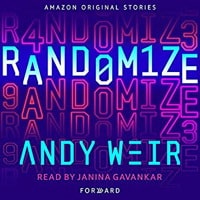 In true Andy Weir fashion, he takes quantum computing to the next level… in Vegas. I love a good con story, so this one had me captured. Marrying quantum computing with Keno makes a lot of sense, but it was interesting to see how it could still be gamed if you knew what you were doing. This one was narrated by Janina Gavankar from TRUE BLOOD. I never watched this show, so I'm not familiar with her work, but she did an impressive array of voices for this story!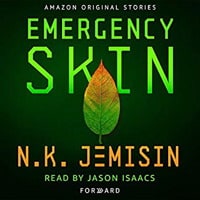 EMERGENCY SKIN by N. K. Jemisin
This story caught me totally by surprise! I thought it was one story but then it turned around and became something else entirely. An all-male interstellar colony sends back a soldier to Earth to get DNA samples so they can continue to clone in peace without women, but what he finds back there blow his mind and challenges his perceptions of humankind. I thought the concept of this one was really creative, especially the way the story was revealed through the point of view of the soldier. This one was narrated by Jason Isaacs, now on STAR TREK DISCOVERY but better known as Lucius Malfoy from the Harry Potter movies.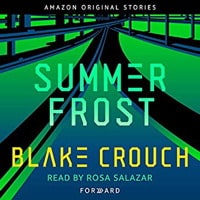 This is my first Blake Crouch book but I hear people talk about his books all the time so I immediately reserved a few of his standalone titles from the library after I was done listening to this one. A video game developer becomes obsessed with a game AI that shows signs of sentience. Over years in the narration, we watch this game developer grow and change along with the AI, and what happens to the AI once it reaches a certain threshold of understanding. This story gave me chills because we're already so close to making AI function as if it's sentient. We are playing with this concept now, not twenty years from now. The ending surprised me (in a good way) and I finished the book wanting more. This narrator, Rosa Salazar, was fantastic. I also don't know her acting work, but I see she was in BIRDBOX and a few other films recently.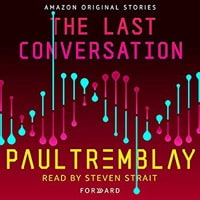 THE LAST CONVERSATION by Paul Tremblay
This was probably the most frightening example of emerging technology, and it was also written using a lot of 2nd person point-of-view! I don't often get to read much with 2nd person ('you' as the pronoun) so this was a treat. The whole story wasn't told this way, but certain portions were and that was really well done. We wake up as a man with only certain memories and a body that doesn't work. Over the course of the story, we get to see the man train and become the person he's supposed to be.. or is he the person he's supposed to be? Again, the ending of this book was like OMG, I DID NOT SEE THAT COMING! I kept guessing who the guy was and getting it wrong. A fantastic story! This was narrated by Steven Strait who plays Holden on THE EXPANSE. I recognized his voice right away as this is also one of my favorite shows.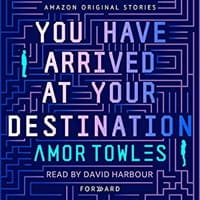 YOU HAVE ARRIVED AT YOUR DESTINATION by Amor Towles
This was the last one I listened to. I loved the play on "choosing your baby" and choosing your own adventure. There are so many choices one can make in a lifetime and produce far different results than expected. This was not my favorite ending of the bunch, BUT the more that I think about it, it was the only ending which makes the most sense to the story. It's all about making the decisions and OWNING those decisions, not letting anyone else make them for us. Very powerful message. This story was narrated by David Harbour, the cop from STRANGER THINGS. He has such a great voice for audio. I hope he does more audiobooks!
So, all in all, this was a great collection! I actually got them all for free, both the ebooks and audiobooks, using my Prime membership, so it's a double win, though they are worth whatever Amazon is charging. I will definitely be checking out more books by these authors!