I have exciting news today! HIGH FLYGHT, the third book of the Flyght Series, is now available for purchase! If you pre-ordered it, it should be on your ebook readers already. There will not be a paperback available for this book.
This was such a fun and complicated book to write. Finally, Vivian has more than one man in her relationship network and she has to introduce them and have them work together. Plus, she's adding a new medic to the crew who stirs emotions too. Add to that more mysteries surrounding the Rio seeds and so much more! This book has everything!
I really hope you enjoy it. Have a great weekend reading, everyone!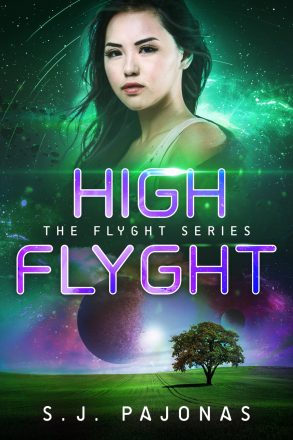 A sister betrayed. A discovery of contraband. Can she save her family or will she crash and burn?
Vivian Kawabata won't rest until she reverses her family's unfortunate lot. Still fuming over her brother's betrayal, she struggles to rustle up a few more eligible men for her anemic relationship network and a medic for the crew before someone dies on her watch. But she thinks her luck is finally beginning to change when they uncover her conniving brother's stash of valuable superhero seeds.
Hoping the plant's mysterious powers can buff both her crew and her bank account, she races to turn the crop into cash. But when her alluring ex, Ken, returns, managing her bedroom threatens to steal her focus. With old wounds reopening, jealous competitors, and dangerous side effects, Vivian fears for her life… and her heart.
Are she and her newfound network doomed, or can she finally chart a course for success and love?
HIGH FLYGHT is the third book in the far-flung Flyght Series of sci-fi reverse harem romance. If you like clever heroines, sexy men, and fast-paced action, then you'll love S. J. Pajonas's captivating universe.
Note: This is a slow-burn romance series!
Amazon Apple Books Nook Kobo Google Play
Direct via PayHip



Have questions about buying direct?
Enjoy HIGH FLYGHT! I'll see you around here next week!