Since the events of THE DAYDREAMER DETECTIVE BRAVES THE WINTER take place just before the holidays in Japan, I've decided to put it on sale for the holiday season here! It's not very often that I discount a Book 2 in any of my series, so take advantage of this while you can!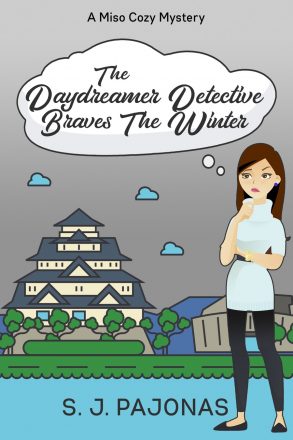 She's got her head in the clouds and a taste for solving crime…
December has set in and just when the rural town of Chikata is recovering from one murder, Mei and her new boyfriend, Yasahiro, find their friend, Etsuko, dead in her apartment. Etsuko was sweet and talented, and now everyone suspects her longtime boyfriend killed her. Mei doesn't believe it, though, and she vows to help solve the crime.
But Mei has more to think about than murder. With the barn gone and their vegetable stores destroyed, she and her mother are down to their last canned goods and no money for heat. Mei's mom is fortunate to find work, but Mei must fend for herself, get a job, and keep their financial situation a secret from Yasahiro. In pursuit of paying work, she stumbles onto a new witness to the crime, and before long, the dead woman's secret life unravels before everyone's eyes.
Half-starving and out of her element, Mei is on thin ice, and it's going to take a whole lot of ingenuity and quick thinking to solve the crime before the killer gets to her as well…
THE DAYDREAMER DETECTIVE BRAVES THE WINTER is the delightful second course to the Miso Cozy series of cozy mystery novels.
On Sale For 99¢ For A Limited Time!
Amazon Apple Books Nook Kobo Google Play
Direct via PayHip



Have questions about buying direct?
Now is a good time to buy because next year I plan to write and release the last book in the series! Yes, there's only one more book in the Miso Cozy Mysteries series. Watch for it in 2020!