It's our first Teaser Tuesday for HIGH FLYGHT!
Vivian finds out pretty quickly in BROKEN FLYGHT that she's going to need a medic on the Amagi, or she'll risk injury or death without someone to help out. So when she runs across Gus, whom she met in FIRST FLYGHT briefly, and realizes he's a nurse, she decides to go after him pretty hard. He did flirt with her, after all, so she knows he's interested. He just needs a little convincing to leave his cushy job at the hospital.
Turns out, though, that Gus has his own reasons for wanting to shake things up and try something new. I won't spoil it but here's what happens once he says yes…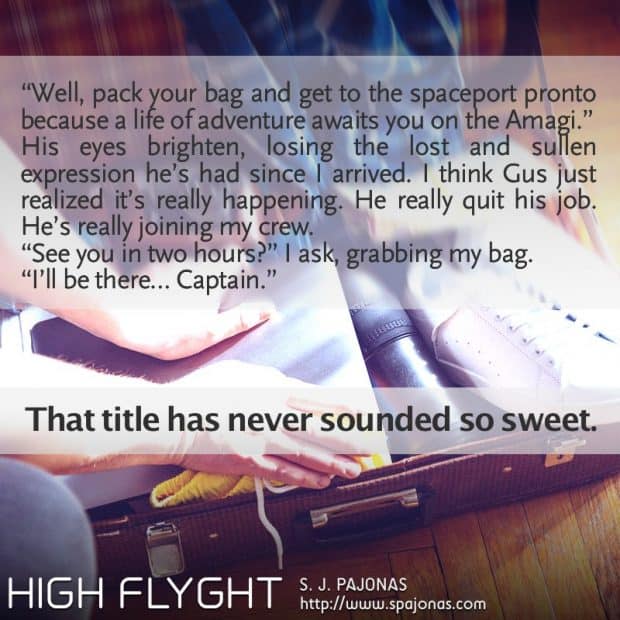 When Mom looked at me and told me our future was in my hands, I believed, at that moment, I would never meet anyone I cared about. I would fail at this job so miserably that I'd need to crawl into a hole and stay there forever. That awful experience with Sean almost sealed the deal. And this drama with both Jinzo and Ken? I figured it was a sign I was screwed.

Things are looking up! I'm taking care of business. I'm making the hard decisions. And I'm finding new men to add to my network. Maybe. I guess we'll see what happens with Gus.

I'm willing to take the chance.

"Food and adventure. I have both." I smile at him, and his weary face smiles back.

"You know, I saw those old bruises on your leg when I was taking care of the cut you sustained." He sits back in his seat and sinks in, relief relaxing his shoulders. "And then I saw that rescue video after my shift, the one of you and Jinzo on Rio. If that's the kind of adventure you're offering, I might be a little ill-prepared."

"What? You don't like wrestling giant squid in your spare time?"

He barks a short laugh. "I've honestly never had the opportunity."

I stand up and chug down the last of my coffee. "Well, pack your bag and get to the spaceport pronto because a life of adventure awaits you on the Amagi."

His eyes brighten, losing the lost and sullen expression he's had since I arrived. I think he just realized it's really happening. He really quit his job. He's really joining my crew.

"See you in two hours?" I ask, grabbing my bag. I have lots to do to prepare for him. I have a crew to warn, a bedroom to prep, and more food to buy. Another mouth to feed, but I can afford it with a new Gai Reis contract and income from Jinzo and Ken.

"I'll be there… Captain."

That title has never sounded so sweet.

As I leave, I glance over my shoulder and see him staring out the window again, this time with a smile on his face.
Welcome to the crew, Gus! We'll see how you get along with everyone…
Want to pre-order HIGH FLYGHT?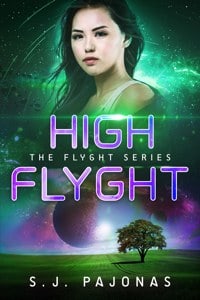 Read the blurb, an excerpt, and find all the buy links on my website…
HIGH FLYGHT publishes Friday, November 8, 2019!