Rolling along with the Flyght Series, BROKEN FLYGHT, Book 2, is available today! This was such a fun book to write. It really gave me the chance dive deep into this universe I created and take it out for a spin. Plus, I got to write some fantastic romance, which is always my favorite part. All in all, it's an enjoyable romp. I think you'll love it.
Don't forget to pre-order HIGH FLYGHT, Book 3, of the Flyght Series. It will be out in November. Book 4 will be out in January 2020, and I plan to have Book 5 out in March 2020.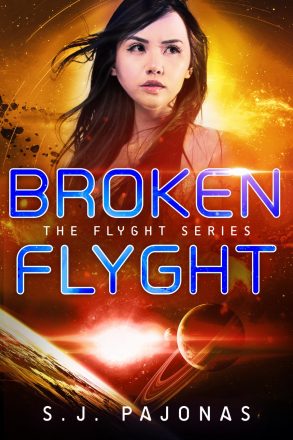 Fallen heiress, ship's captain, entrepreneur — Vivian will do whatever it takes to restore her family's empire, even if it means sacrificing her own happiness…
With her ship secure and her old boyfriend back in good graces, Vivian Kawabata only needs one thing to move forward: money. Money, though, is hard to come by when you're an infamous disgraced heiress. Vivian's only move is to enlist the help of her matchmaker, Marcelo, and find another wealthy man to add to her relationship network. He not only has to be a master in the bedroom, but he must be a pro with ships, too. Her ship needs a mechanic before they start taking on real clients for Flyght, the lucrative ship-sharing startup.
On their way to Rio to follow the trail of Vivian's deceitful brother, Marcelo presents Vivian with two eligible bachelors, Sean and Jinzo. The vetting process is rocky from the start; Sean is stand-offish and distant, and Jinzo doesn't make a good first impression. Despite this setback, Vivian is determined to make something work because if she's doesn't, she's dead in the water.
After their first romantic escape, Vivian is knocked backwards by her feelings for Jinzo (first impressions aren't everything). But he's not as eligible as he first seemed to be, and the realization throws her whole world into chaos and a new possible scandal. Every decision Vivian makes puts not only her own future on the line, but that of her crew and her family. Will she play it safe, or risk everything – including her heart?
BROKEN FLYGHT is the second book in the Flyght Series of sci-fi reverse harem romance. If you like action-packed space operas and a universe full of twists, then you'll love S. J. Pajonas's interstellar adventure.
Note: This is a slow-burn romance series!
AmazonApple Books Nook Kobo Google Play
Direct via PayHip



Have questions about buying direct?
It's another adventure in the Duo Systems! I hope you enjoy your travels with Vivian and the Amagi!