Hello everyone! It's been a busy week around here doing lots of editing, so blog content has been light. No worries. There's more to come in the following weeks!
If you've read FIRST FLYGHT, you probably already know that BROKEN FLYGHT, Book 2 of the Flyght Series, is up for pre-order. In fact, Book 3, HIGH FLYGHT, is also up for pre-order but let's focus on BROKEN FLYGHT today!
Where FIRST FLYGHT is the introduction to the series, BROKEN FLYGHT introduces one of the main suitors of the series, someone who will be important for Vivian. We also get a chance to see more of the Californikos System by spending time on Rio, the ringed planet with its own unique ecosystem. This is such a fun book with lots of twists and turns, a sea monster, and a chase!
This was a tough book to write! It has a lot more romance than the first book and it introduces a few more characters that will be important for the length of the series as well. Each book in this series builds on the book before it, so it has to be read in order. This also means that I, as the author, have to remember everything I wrote in the book before. HARD TO DO! I have to re-read my books all the time. Lol. But these first two books of the Flyght Series are the most important ones because they set the stage for the whole saga. I'm so excited for them both to be out there!
I also really love the cover for this book. All the covers are really great, but for some reason, I love the expression of my heroine on the cover. Thanks, Najla!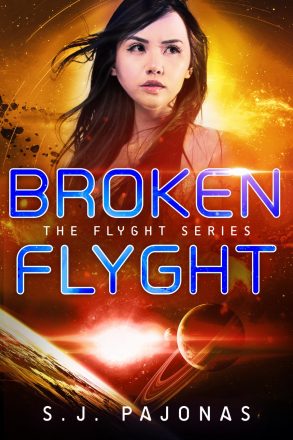 Fallen heiress, ship's captain, entrepreneur — Vivian will do whatever it takes to restore her family's empire, even if it means sacrificing her own happiness…
With her ship secure and her old boyfriend back in good graces, Vivian Kawabata only needs one thing to move forward: money. Money, though, is hard to come by when you're an infamous disgraced heiress. Vivian's only move is to enlist the help of her matchmaker, Marcelo, and find another wealthy man to add to her relationship network. He not only has to be a master in the bedroom, but he must be a pro with ships, too. Her ship needs a mechanic before they start taking on real clients for Flyght, the lucrative ship-sharing startup.
On their way to Rio to follow the trail of Vivian's deceitful brother, Marcelo presents Vivian with two eligible bachelors, Sean and Jinzo. The vetting process is rocky from the start; Sean is stand-offish and distant, and Jinzo doesn't make a good first impression. Despite this setback, Vivian is determined to make something work because if she's doesn't, she's dead in the water.
After their first romantic escape, Vivian is knocked backwards by her feelings for Jinzo (first impressions aren't everything). But he's not as eligible as he first seemed to be, and the realization throws her whole world into chaos and a new possible scandal. Every decision Vivian makes puts not only her own future on the line, but that of her crew and her family. Will she play it safe, or risk everything – including her heart?
BROKEN FLYGHT is the second book in the Flyght Series of sci-fi reverse harem romance. If you like action-packed space operas and a universe full of twists, then you'll love S. J. Pajonas's interstellar adventure.
Pre-order BROKEN FLYGHT on…
AmazonApple Books Nook Kobo Google Play
BROKEN FLYGHT will be available on October 4, 2019! I hope you're enjoying the series already!