Today is finally the day! FIRST FLYGHT book was written and ready for publication over a year ago, and today, it's released to the world. I held back on publishing this series so I could bank up a few books, and I'm glad I did. What with the broken leg earlier this year (that's still healing), I would've had a hard time keeping a normal publishing schedule. As it is, this is only the second book I have published in 2019!
If you love FIRST FLYGHT, BROKEN FLYGHT, Book 2, will be out in October, and HIGH FLYGHT, Book 3, will be out in November.
I have really enjoyed writing this series, and I think it shows in the work I have done. Hopefully you'll pick up FIRST FLYGHT and give it a shot.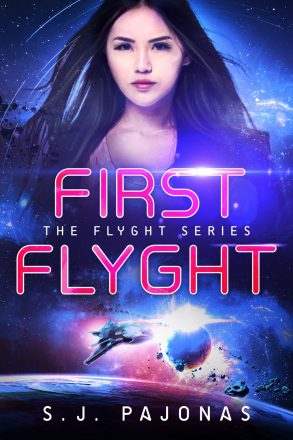 Her future is brighter than the stars. But one betrayal will change everything…
Vivian Kawabata can't wait to claim her privileged destiny. But when the heir to the family agricultural empire finds her bank account empty while shopping for expensive shoes, she's horrified to discover that her own brother has financially stabbed her in the back. To stand a chance of restoring her rightful place in the universe, the honest and rule-following Vivian may have to break a few intergalactic laws.
After securing an old ship from her aunt, Vivian takes on two new roles: a sexy heiress collecting eligible husbands and a hard-nosed captain rebuilding a lost fortune by any means necessary. Completely out of her depth, she'd be sunk without the help of a relationship broker, a handsome ex-boyfriend, a hacker with a heart of gold, and the other potential partners she meets along the way. With a business that runs the razor's edge between trade and smuggling, can the former high-society socialite get the money she needs or will her brazen ambition lead to a deadly crash landing?
FIRST FLYGHT is the first book in the Flyght Series of sci-fi reverse harem romance. If you like action-packed space operas and a universe full of twists, then you'll love S. J. Pajonas's interstellar adventure.
Note: This is a slow-burn romance series!
AmazonApple Books Nook Kobo Google Play
Direct via PayHip



Have questions about buying direct?
I'll be keeping FIRST FLYGHT 99¢ through September 13th, and then it will go to its regular price of $3.99. So if you want to try this new series, now is the time to pick this up! This series will not be in Kindle Unlimited, and books in the series will be priced at $3.99 for the foreseeable future.
I hope you enjoy your travels with Vivian and the Amagi!