I hope you've enjoyed meeting all of these awesome sci-fi reverse harem authors and their books! Today is our last, but not least, feature, and I have Eva Delaney here to talk about why she wrote A STAR PILOT'S HEART, the first book in the All the Stars in the Sky Series.
I asked Eva, "Why did you write A STAR PILOT'S HEART?"
Eva replied…
I've been a huge fan of sci-fi since seeing Star Wars at my grandma's house when I was 9. I've been writing sci-fi for years when I discovered reverse harem from my author friends. Everyone in my writers' group was getting into it, so I picked up a sci-fi RH: Pirate Nemesis by Carysa Locke. The book is freakin' awesome and had so much of what I love. So I figured I could combine romance and space opera as well. Thus, Star Pilot was born.
I love that Eva mentions one of my favorite books, too! PIRATE NEMESIS is so good, and Carysa was one of my main inspirations for writing RH into the Flyght series.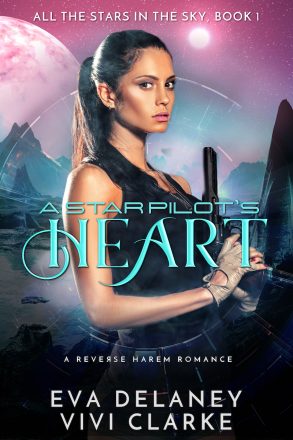 Can I complete my mission and save the galaxy with five alluring men tempting me every chance they get?
I'm the best damn pilot and smuggler in the galaxy. I'm good at what I do because I work alone with no one to screw things up.
Until I'm assigned a secret mission with a team of five tempting men, including my cocky ex who's acting like he never broke my heart.
With a gruff, pissed off soldier, an enemy bounty hunter, a gorgeous doctor, a shy techie, and a sassy dog, this ship is way too crowded with people I don't need or want.
I don't have time to be distracted by my ex, that muscular warrior, the soulful medic, or any of the others who keep getting in my way.
But the longer I'm stuck on this ship with them, facing death at every turn, the more I like having them around.
A Star Pilot's Heart is a reverse harem space opera, featuring a bad-ass heroine, sexy rebels, and gripping space battles. It's a combination of Firefly and Star Wars with a RH twist.
Check out A STAR PILOT'S HEART on…
Amazon
---
Find This Author Online
Learn more about Eva Delaney on…
Website: http://evadelaney.com/
Facebook Group: https://www.facebook.com/groups/evastarship/
Facebook: https://www.facebook.com/EvaDelaneyAuthor & https://www.facebook.com/EvaDelaneyAuthor2