I have another sci-fi reverse harem book for you today! Chandra Ryan is here to talk about her series, The Dragon Accords, and the first book, GOLDEN.
I asked Chandra, "What inspired The Dragon Accords Series?"
Chandra replied…
My favorite thing about this series is the character development. I love how the characters start off reacting to the crap life is throwing at them, but by the end of their book, they have found the strength to act instead of react, and to make the decisions and changes necessary to achieve their goals.
Character development is so important in a series, especially if you're going to be with those characters for several books. I love watching a hero or heroine grow and change!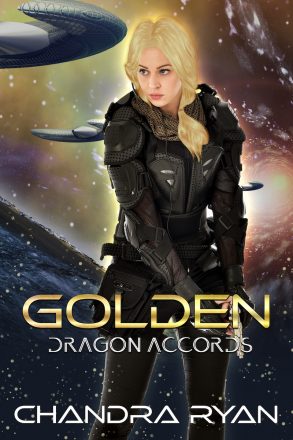 Mesha has lived with one truth: Dragons are the enemy. Sure, they're sexy as hell and their touch makes her weak in the knees, but they are the aggressors in the centuries-old war between their people.
Aarush, Divit, and Hiran have a truth of their own: Humans can't be trusted. And Mesha swears she's human. A human who works for the Agency. She's their enemy. But something about her calls to them.
Unfortunately for them, love and war are complicated, enemies and alliances aren't set in stone, and sex is never simple.
*This a science fiction reverse harem with a feisty heroine who refuses to follow orders and insists on doing things her own way. It has explicit, and sometimes group, sex scenes. Golden is intended for those who are 18 or older.
Check out GOLDEN on…
Amazon
---
Find This Author Online
Learn more about Chandra Ryan on…
Website: http://www.ChandraRyan.com
Facebook: https://www.facebook.com/chandra.ryan
Facebook Page: https://www.facebook.com/Author.ChandraRyan/
Instagram: http://www.instagram.com/author.chandra.ryan
Twitter: https://twitter.com/ChandraRyan