We have a double feature this week! This one is not reverse harem scifi, but instead I'm bringing you some urban fantasy by a fantastic author. This is a new release and on sale! So snap it up now while you can.
I asked Graeme, "What inspired the Urban Ghoul series?"
Graeme replied…
This series tugged at my brain for a long time, demanding to be written. I'd been unable to forget this image of the Ghoul from Middle-Eastern mythology – a carrion eating monster that appears like a beautiful woman to lure men into the desert for her kill. Also, for some time I'd had this germ of an idea about a near-future dystopia where common people are indentured servants working for Mafia-like Families, a dark, twisted version of the Houses in the Dune series. The third piece of the puzzle was an idea I had where women would alter their physical appearance to look like cats or squirrels or cute animals, to attract men.

So the seeds were sown. Rachel is an agent for a powerful Family, and the Ghoul inside her makes her the perfect assassin. How would this harm her humanity? Her relationships? How does she handle being betrayed by the Family that raised her?

These are the questions I sought to answer in this series, along with which wins out of Family or family, an allegory for people of today's insane dedication to work, often before family. There are several other allegorical statements made, which I'll leave the reader to discover. All the supernatural creatures in the series are based on Persian mythology, so I hope the reader enjoys that originality too.
I really love stories about powerful families, and this mix with mythology sounds super interesting!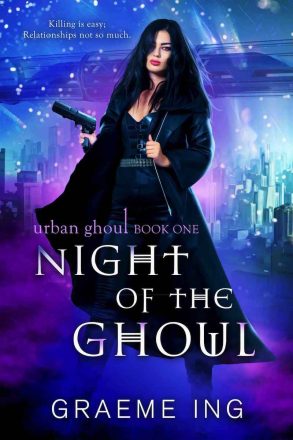 Welcome to 2050. I'm Rachel, and there's a monster inside me that makes me a perfect assassin. Like everyone else, I'm indentured to a Family. I do their dirty work.
Someone's pet geneticist toyed with my sister, and now she's not human either. When I find them, they're going to make her right, and then I'm going to tear them apart. Tania's the only real family I have. Killing whoever gets in my way is the easy part; enlisting my ex-lover's help — not so much. I don't have time to dredge up those old emotions.
Night of the Ghoul is the first in a series of four and a mashup of Urban Fantasy, Dystopian, and Cyberpunk.
Warning: This book contains adult language, explicit sexual content, and some depictive scenes of intense blood and gore.
Check out NIGHT OF THE GHOUL on…
Amazon Nook Apple Books Kobo Google Play
---
Find This Author Online
Learn more about Graeme Ing on…
Website: http://www.graemeing.com
Facebook: https://www.facebook.com/GraemeIngAuthor/
Twitter: https://twitter.com/GraemeIng