Continuing with our features of other sci-fi reverse harem books, today I have Cecilia Randell on the blog to talk about her series The Adventures of Blue Faust!
I asked Cecilia, "What inspired The Adventures of Blue Faust series?"
Cecilia replied…
I wrote The Adventures of Blue Faust because it was story that needed to be told. I love adventures in unknown worlds, and exploring other cultures. I also love mixing the ideas of sci-fi and fantasy. Where do you draw the line? I really wanted to play with that. Take a familiar trope in the fantasy genre (portals) and adapt it to sci-fi.

I also really wanted to play with the idea of writing a relationship involving one woman and multiple men, but without the "fated mate" trope that is often seen. How would that work? What types of personalities would be needed? What kind of woman would be able to keep them all in line? How would they come together?

And finally, I really wanted to write a heroine who had that fine balance of what I like to call "quiet strength." An ordinary person, with their own anxieties and insecurities, but with enough strength of will to set a goal and work toward it. That I got to pluck her out of her normal life on Earth and throw her into the big, wide universe and see how she dealt with it was one of the funnest things I've ever gotten to do.

Because that's the main thing I love about sci-fi, asking "what if?" and exploring new worlds.
I also wanted to play with something other than the "fated mates" trope for my Flyght Series, so I completely understand how much fun it is to work around that. It's such a popular trope in Reverse Harem! "Quiet strength" is also a great term for a heroine!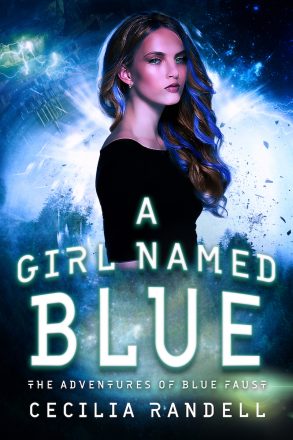 An ordinary girl, thrown into extraordinary – and deadly – new worlds…
After the death of her father, Blue Faust is struggling. When she and her mother move to a new city yet again, Blue is determined to begin living her life once more. She even makes a list.
Everything starts to come together. Then, while out hiking with new friends, the ground shakes and the air changes, and they find themselves in a strange new world.
And that's just the beginning. Blue discovers a conspiracy of planets, and whole new universes. Suddenly, she is dealing with kidnappers and barbarians, grumpy beast-mounts and advanced technology, all while trying to find a way home.
Along the way, she'll encounter hooligans, mercenaries and clansmen, not to mention a whole slew of those pesky buried family secrets… But she'll also find something within herself that craves this life, and she'll find the beginnings of a love that will defy universes.
Check out A GIRL NAMED BLUE on…
Amazon
---
Find This Author Online
Learn more about Cecilia Randell on…
Facebook Group: https://www.facebook.com/groups/746599072207824/
Instagram: https://www.instagram.com/cecilianrandell/
Bookbub: https://www.bookbub.com/authors/cecilia-randell
Newsletter: http://eepurl.com/divLmj
Facebook Author Profile: https://www.facebook.com/Cecilia-Randell-816496085179222/
Amazon: https://www.amazon.com/Cecilia-Randell/e/B073ZHHRL9/
Website: https://ceciliarandell.com/