Over the next month and a half, I'll be featuring other sci-fi romance reverse harem books here on the blog. Since FIRST FLYGHT is also sci-fi reverse harem, I thought you might like to get to know the genre a little!
Today, I have Wendie Nordgren here to talk about the first book in her series, THE SPACE MERCHANTS.
I asked Wendie, "What inspired THE SPACE MERCHANTS?"
Wendie replied…
My inspiration for The Space Merchants was a simple question which I asked myself. I've read so many stories with main characters who are brilliant scientists, but what if a girl with nothing, no family, education, or money, got a chance to explore the universe? Teagan begins not mattering to anyone, but all of that changes as she learns her own self-worth.
This tugs at my heart. I love seeing a protagonist really come into their own! Become strong and worth not only the love of others, but of themselves too. Very powerful.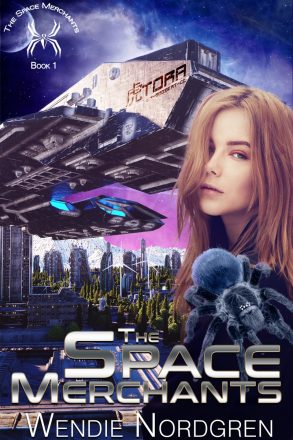 Teagan Green dreams of escaping the drudgery of Earth and traversing the stars.
How will her dreams come true when events from her past are intent on destroying her?
As soon as Teagan Green turns eighteen, she leaves her painful childhood behind and travels as far as her credits will take her. In Union Port City, she is homeless until she becomes a reclamation worker. Teagan's only dream is to one day make it up into the stars. She gets her wish when she is hired as a domestic assistant on Tora, a merchant starship. On Tora, Teagan meets Yukihyo Lee, an alien who survived the brutal slaughter of his entire clan at the hands of the Parvac Empire. Yukihyo is of a race in which the males require emotional bonds with their females in order to control their aggressive tendencies. He finds that bond in Teagan. While exploring the Galaxic Expanse with the crew of Tora, Teagan discovers a universe full of beauty and danger, true love, and her own personal worth.
Check out THE SPACE MERCHANTS on…
Amazon Nook Apple Books Kobo
---
Find This Author Online
Learn more about Wendie Nordgren on…
Website: http://www.wendienordgren.com
Facebook: https://www.facebook.com/thespacemerchantsseries/