I've been working hard behind the scenes to bring you all some fun reading! First up, FIRST FLYGHT is now available for pre-order on Amazon, which means that it's now available for pre-order in almost every place I publish. Early reviews are coming in about this book and everyone is gushing over it (*blush*) so be sure to pick it up at the low-low price of 99¢. I almost NEVER sell a book at this low of a price out of the gate, but I decided to give it a go this time. Take advantage of my temporary insanity. ;)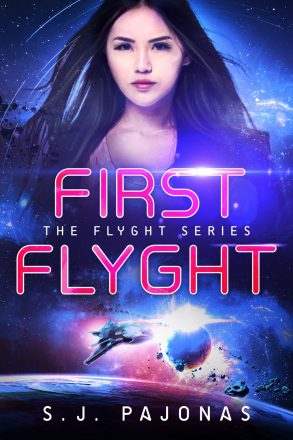 Her future is brighter than the stars. But one betrayal will change everything…
Vivian Kawabata can't wait to claim her privileged destiny. But when the heir to the family agricultural empire finds her bank account empty while shopping for expensive shoes, she's horrified to discover that her own brother has financially stabbed her in the back. To stand a chance of restoring her rightful place in the universe, the honest and rule-following Vivian may have to break a few intergalactic laws.
After securing an old ship from her aunt, Vivian takes on two new roles: a sexy heiress collecting eligible husbands and a hard-nosed captain rebuilding a lost fortune by any means necessary. Completely out of her depth, she'd be sunk without the help of a relationship broker, a handsome ex-boyfriend, a hacker with a heart of gold, and the other potential partners she meets along the way. With a business that runs the razor's edge between trade and smuggling, can the former high-society socialite get the money she needs or will her brazen ambition lead to a deadly crash landing?
FIRST FLYGHT is the first book in the Flyght Series of sci-fi reverse harem romance. If you like action-packed space operas and a universe full of twists, then you'll love S. J. Pajonas's interstellar adventure.
Note: This is a slow-burn romance series!
AmazonApple Books Nook Kobo Google Play
This book will be available on September 6th! And I'll be putting Book 2, BROKEN FLYGHT, up for pre-order soon too. There's lots coming in the next month or two, so stay tuned!