As always, I enjoy bringing new authors to the blog! This is a new romance from Beth Fred, and I thought you all love it for some poolside or summer reading.
I asked Beth, "What inspired HIS FIRST LADY?"
Beth replied…
I actually wrote this book as therapy for myself during the 2015 primary season with no real plan of publishing it. I had so much fun being completely outlandish because I wasn't going to publish. I couldn't come up with anything more insane than what was happening anyway, so I started planning a series.
Real life is stranger than fiction, no? Lol.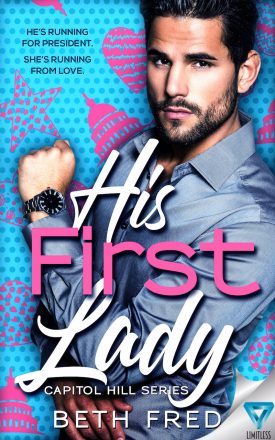 My campaign manager says no one wants a bachelor in the White House and this election is drawing near. The solution? To hold a cattle call, and what's up for auction? Me.
Lucky for me I cross paths with Mandy Buchanan—a feisty blonde who isn't afraid to call me a jerk to my face. But she's in quite the predicament herself. Mandy needs money since her dad refuses to pay for a frivolous degree. So, we strike a bargain.
I get a wife, and she gets her degree.
The deal was simple. No complications. No problems.
While Mandy pretends to be the perfect First Lady, I start noticing her in a way that has nothing to do with politics or practicality. Those curves. Her eyes. The way her face lights up when she talks about her work. She's beautiful.
Suddenly she's no longer just a pawn to help me get into the White House. She's more than that, and I no longer want to play pretend. I want her to be mine in every way.
Now I just need to convince her that our sham marriage might just be the real deal.
Check out HIS FIRST LADY on…
Amazon
---
Find This Author Online
Learn more about Beth Fred on…
Facebook: https://www.facebook.com/bethfred08/
Website: http://bethfred.blogspot.com/