Today, I'm excited to announce that THE DAYDREAMER DETECTIVE is now available for free on all vendors including Amazon Canada, UK, Australia, and India (I had to pull teeth to get India to be free so enjoy it). I'm not sure how long I'll leave this book free, but I'll at least leave it free through the summer and evaluate its effectiveness sometime in September. THE DAYDREAMER DETECTIVE is a great way to get into my books and learn a little about Japan along the way. If you have the chance, please let your friends and family know it's free!
I can hardly believe it's been just over 3 years since I wrote and published this book. The characters in here feel like old friends. The town of Chikata is as real as the town I live in. And I still feel like there are lots more stories to come in this world. I hope you all enjoy this mystery with Mei, her family, and friends!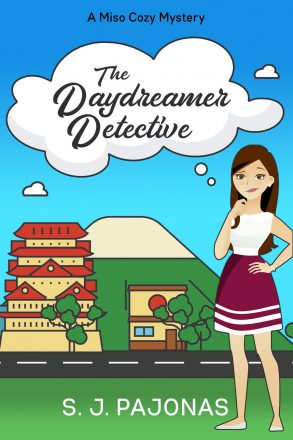 She's got her head in the clouds and a taste for solving crime…
Mei Yamagawa is out of luck and out of money. After five years in Tokyo, she has little to show for it besides a laundry list of unrealized dreams. Left without a choice, she returns to her rural Japanese hometown, ready to be branded a failure by her relatives and rivals. At the least, she looks forward to seeing her best friend, until Akiko is accused of murdering her own father.
As Mei helps her farmer mother with the crops, she scouts for clues to clear her friend's name. But during her investigation, she can't help but notice the celebrity chef looking in her direction. The amateur detective can balance a new love interest and a murder case… can't she?
To clear her friend of the crime and find the real killer, Mei's going to need every last ounce of her imagination… and just a pinch of luck.
THE DAYDREAMER DETECTIVE is the savory starter to the Miso Cozy series of cozy mystery novels. If you like twisty plots, delectable food descriptions, and rural Japanese towns, then you'll love S. J. Pajonas' culinary tale.