I'm back with another mystery for you to read! If you picked up the free prequel to this series a while back when I featured it, then you're ready for more of Piper.
I asked Kelly, "What inspired Piper Ashwell Psychic P.I. Series?"
Kelly replied…
My favorite thing about this series is my main character, Piper Ashwell. She's a psychic P.I., and I've been fascinated by psychic visions for as long as I can remember. Having Piper use those psychic visions to help the police solve cases is so much fun.
I love a good psychic twist to a story! I bet these books are a lot of fun.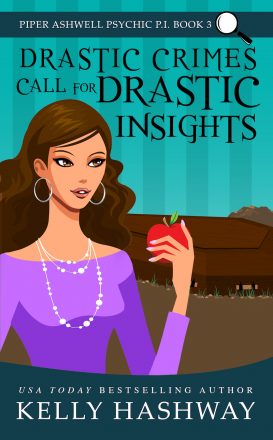 Not all clues lead in the same direction.
Psychic P.I. Piper Ashwell is faced with her biggest case yet. Missing persons files are piling up faster than she can track down clues. And then the clues just seem to stop.
She'll have to take drastic measures if she wants to catch this criminal, especially when she figures out the kidnappings are turning into murders. Worse, Piper has no idea where the bodies are being hidden.
How many lives will be lost before Piper can track down the killer?
Check out DRASTIC CRIMES CALL FOR DRASTIC INSIGHTS on…
Amazon Nook Apple Books Kobo
---
Find This Author Online
Learn more about Kelly Hashway on…
Website: http://www.kellyhashway.com
Facebook: https://www.facebook.com/KellyHashwayCozyMysteryAuthor
Instagram: https://instagram.com/khashway/
Twitter: https://twitter.com/kellyhashway