For today's feature, I have a fun and sexy sci-fi romance by Diana Logan for you! I loved this book, and I was then eagerly awaiting Book 2, which I'm reading right now. If you want to know my thoughts about COMMANDER'S PRICE, check out my last Book Chat.
I asked Diana, "What inspired you to write Commanders of the Iti Series?"
Diana replied…
The Commanders of the Iti series is a world I've been thinking of for nearly fifteen years. I kept getting involved in other projects, some romance, and some sci-fi, but never really had a chance to come back to it until now. It's this beautifully expansive, absolutely crazy cosmic world. I've always loved the sort of wacky, zany "planet-hopping" type sci fi properties (think: Farscape, which was also very lush and romantic), so writing a series that combines adventures, aliens and a lot of sexy romance is a dream come true.

The trigger for me in finally getting started was when I started thinking about who my human heroine was. I'm a big sci-fi geek and I don't often see characters like that in my sci-fi. I wanted a character who got abducted by aliens and didn't spend a long time wondering how the heck there are aliens. Katy jumps right in, and her funny, geeky, adventurous attitude was irresistible to me.
Yes, I really loved Katy! Her wit and charm, and the fact that she just shrugged her shoulders and went with it really appealed to me.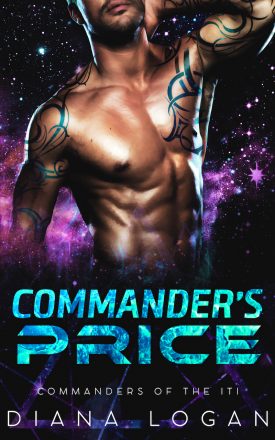 Sci-fi romance for the pop culture superfan!
He was the most gorgeous creature to ever walk into Katy's dive bar. And he claimed he was looking for a woman. Two shots of tequila later, Katy jumps at the chance to accompany her new friend back to his place for a night of mindblowing sex that proves to be out of this world.
Literally.
Katy wakes up on a spaceship halfway across the galaxy, the captive of a smoking-hot alien who claims he's an exiled prince, and that Katy holds the key to helping him win back his throne, as long as she's willing to pay the … COMMANDER'S PRICE.
Check out COMMANDER'S PRICE on…
Amazon
---
Find This Author Online
Learn more about Diana Logan on…
Website: http://dianaloganbooks.com/
Facebook: https://www.facebook.com/dianaloganbooks/