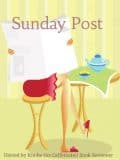 The Sunday Post is a weekly meme hosted by Kimba @ Caffeinated Book Reviewer. It's a chance to share news. A post to recap the past week, showcase books and things we have received and share news about what is coming up for the week on our blog.


---
Things are slowly getting back to normal around here! Very slowly. Y'all will know when they're back to normal when you see me out walking in the park again. Hopefully in the next Sunday Update, I'll be able to tell you that I'm cleared to do just that.
Monday was a high pain day for me after a night of pain. I went back to bed in the morning and just did my best to get by the rest of the day.
Tuesday, I woke up in a good mood after getting good sleep. My house was very noisy with the landscapers here and construction happening next door. I did PT in the morning with my therapist, made lunch and sat outside for most of the afternoon. I wrote some words too! Then I got in the kitchen and made my first real meal in 5 weeks. Miracle of miracles, even my youngest daughter ate it and liked it. (She was obviously abducted by aliens because she ate something with curry in it and liked it. Crazy.)
Wednesday, I wanted to rest but there was so much construction next door! And my cleaning ladies came so I had to pick up everything before they arrived. I'm really slow on my feet, as you can imagine, so that took a lot of time. Then I ate and took a shower after they were gone. I did my physical therapy and had groceries delivered. I did write some. Usually I take the kids to tennis on Wednesdays, but I wasn't able to drive so I had to cancel it. We ordered pizza for dinner and went to bed early.
On Thursday, I really wanted to go back to bed. And I tried but there was too much noise outside. In the morning, I did some chores around the house, took care of some online stuff, and then ate a late breakfast. My physical therapist showed up, and we did our usual exercises, and then she helped me navigate the stairs in and out of the basement! It was the first time I had been in the basement in five weeks. I made a simple and easy dinner and then had to rest the rest of the evening with an ice pack.
Friday was a high pain day. I did what I could but it wasn't much. I did manage to write but only after icing my leg. We ordered sushi for dinner. We also got the bill for my hospital stay. A whopping $59,000! Thankfully our insurance is going to cover almost all of it. Still, we have to pay a good amount of money which sucks. Ah, the American Health Care System.
Saturday, I was tired all day and the pain from the day before plagued me. I brainstormed most of the day on Flyght 3. I knit some and spent time with the family.
Today, I am just trying to get by. I'm exhausted from all this healing I'm doing, and all I want to do is sleep. I watched a documentary on Emperor Akihito on NHK World. His abdication is coming up this week! I'm looking forward to watching all the ceremonies on TV. Then I took a nap. I know I need to get up and do some PT, but I'm having trouble finding the energy to do it. I may do it from my chair instead.
What else happened this week?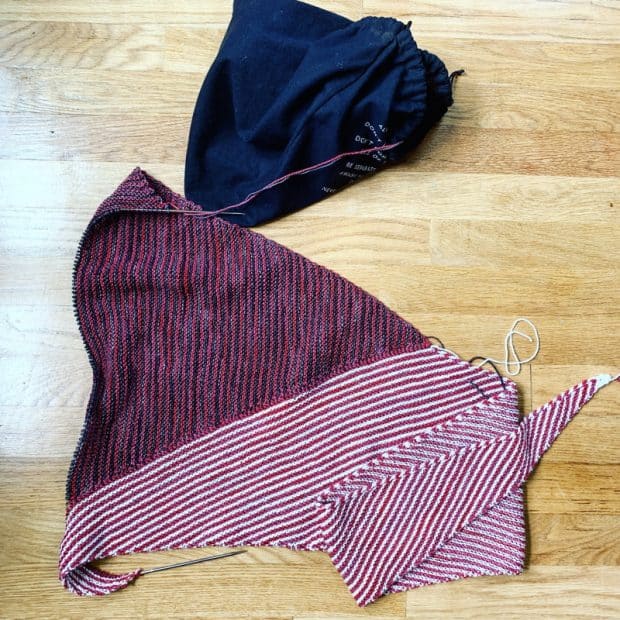 I've been making good progress on my current knitting WIP. I'm almost done with the second section.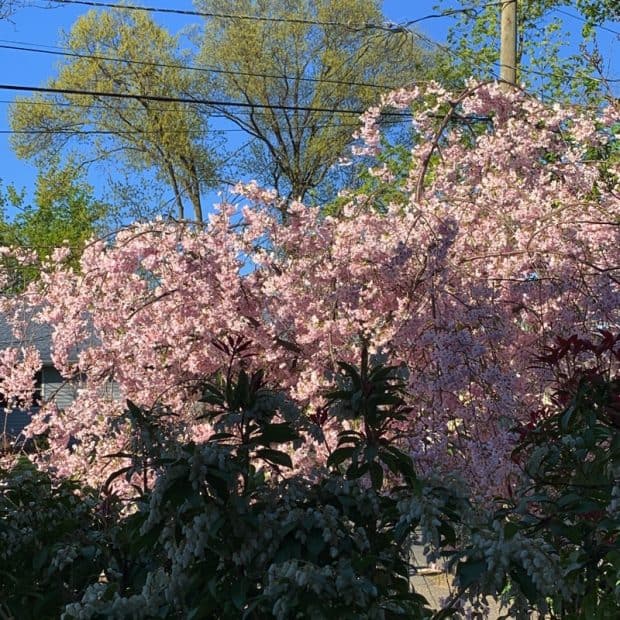 Our cherry tree has been in bloom for almost two weeks. It's been nice to have all that pink outside the window.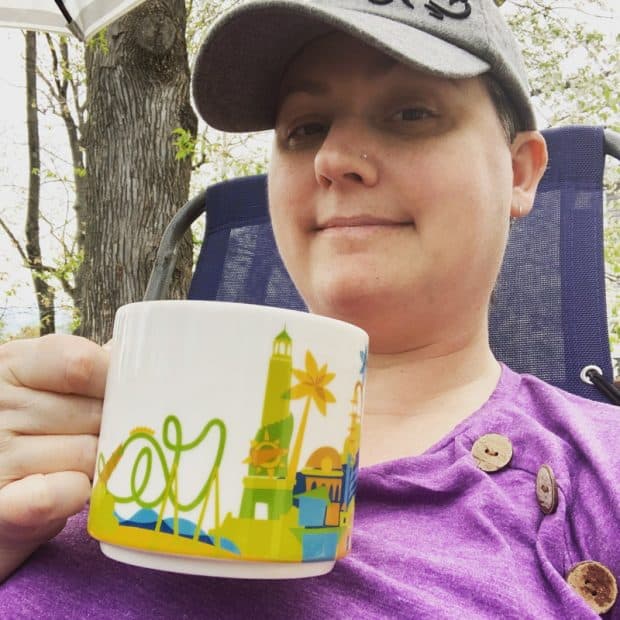 I enjoyed some outdoor tea time this past week.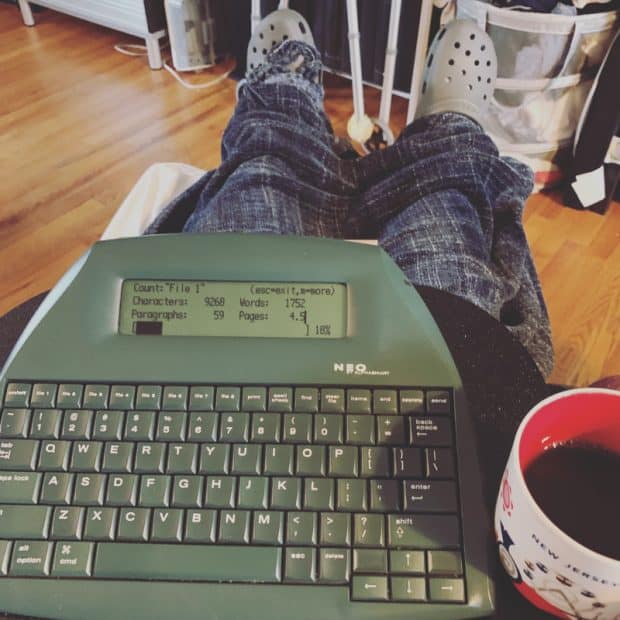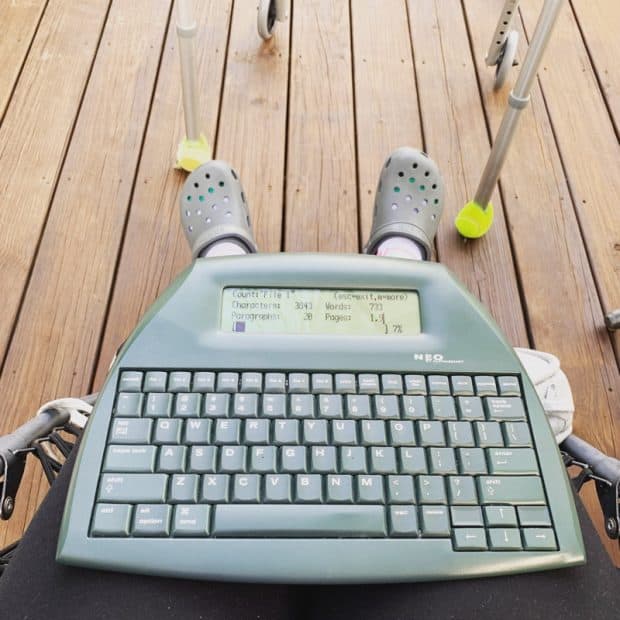 There has been writing! And I'm almost at the 10,000 word mark on this book. It's taking time to get the words down, but I'm glad I'm getting ANYTHING.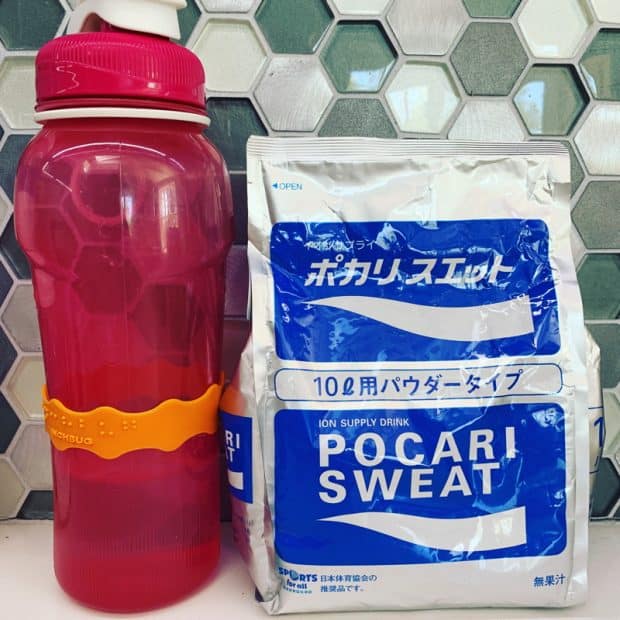 One of my favorite drinks in Japan is Pocari Sweat. It's a lot like a Gatorade but it has a very distinct flavor, kinda like grapefruit. Which is probably why I like it because I like everything grapefruit. Anyway, the bottles of the drink are not exported to the US because of the unfortunate name. Lol. But I found the powder on Amazon! So happy! It does have a lot of sugar so it's not something I'll drink every day, but whatever!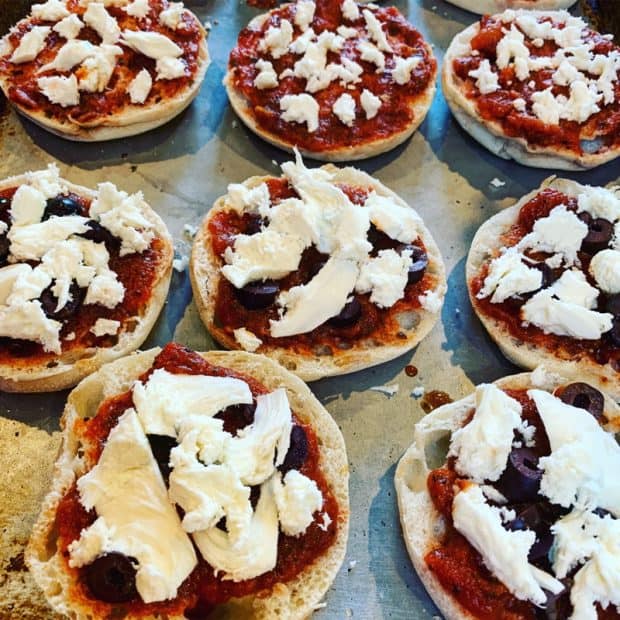 We enjoyed some English Muffin Pizzas last night for dinner. The kids especially love these.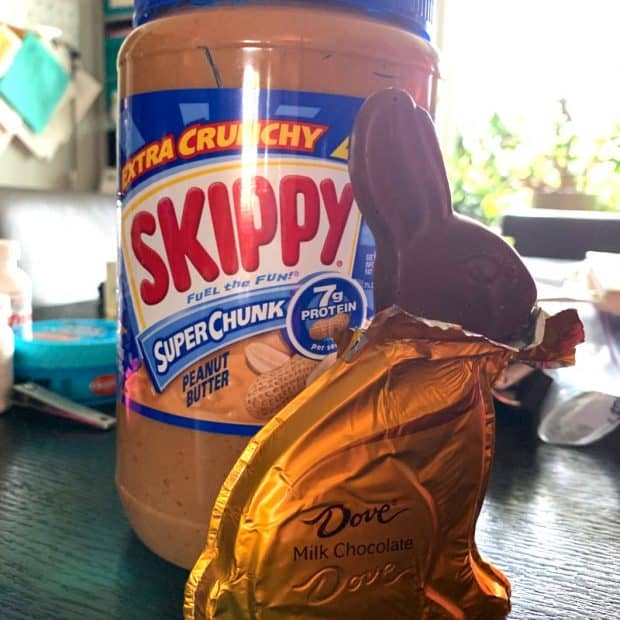 And finally, my Easter bunny lots its ears… and head… I love to dip them in peanut butter!
I hope you all have a fabulous week!