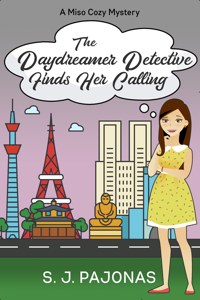 When last we left Mei and Yasahiro in THE DAYDREAMER DETECTIVE RETURNS A FAVOR, they were looking for land to build a new house on. This was a dream of theirs, to show the town that Chikata was coming back and would be a great place to build and have a family.
So naturally, in THE DAYDREAMER DETECTIVE FINDS HER CALLING, we get a chance to see how the building process is going for them… and it's not going well. At all. If you've never heard of stigmatized properties in Japan, here's a crash course on them from Tofugu.com. When strange events start happening on Mei's property, she's tasked with solving that mystery as well.
Here's a nice juicy excerpt from THE DAYDREAMER DETECTIVE FINDS HER CALLING!
---
"What happened this time?" I asked, trying to fold my arms over my chest and failing because Mari was strapped there. I stuffed my hands into my fleece pockets instead.
"Mrs. Suga." Imai, the foreman, acknowledged me with a bow. "Some scaffolding collapsed and knocked Daiki Wada off a ladder. He fell right on his shoulder and fractured it."
"Did you check the scaffolding before working?" I looked at the house to determine where the accident occurred. It must have happened inside the structure because I couldn't see anything different from where I was.
Imai sighed. "We did check it, but we must have missed this one spot where the ground was uneven."
"Hmmm. Well, it sounds like an accident…?" The lift in my voice was unintended. I wanted this to just be an accident, but it was looking less and less likely.
Imai shifted his eyes down. A bad sign. "Well, whether it's an accident or not, my team has walked off the job, and they won't be returning until we get some answers about the land."
I huffed, and Mari blinked her eyes at me. "The land," I grumbled under my breath.
"Whether it's stigmatized or not. Now, I've worked on plenty of job sites in my career where contractors have been injured. It happens. Sometimes it happens three times in one week. Other times, we may have nothing bad happen at all. And normally, I would brush this off. But Wada insists that you're to blame. I'm so sorry." He bowed, covering up his unease about speaking so plainly. "So he's riled up the other men on the site and spoiled the lot of them. Again, I apologize."
While Imai was bent over in deference, I glanced at Goro. He sighed and stowed away his notebook.
"If I figure out what's going on with the land or whatever," — I waved my hand in a circle, not caring how informal I sounded — "will you hire a new crew and return to finish the job? I really want my house. I have fought… so hard…"
And then the tears came. Ugh. I hated how they made me look. Like some weak, sniveling woman who couldn't control herself.
But both men were not embarrassed, thankfully. Goro did the decent thing and set his hand on my shoulder to steady me.
"We'll figure it out," Goro said, reassuring me. "And I'm sure Mr. Imai will find the right crew to be here and build your house. Isn't that right, Mr. Imai?"
Goro raised his shoulders and asserted his dominance, something I hadn't seen him do in quite some time. In his police uniform, he always looked like he had command of the situation, but now, with him staring down at Imai, his intimidating nature shone through.
"Of course. We want to build this house." He stood up straight. "The manufacturer assures me that this is a point of pride for them, to have one of their houses in this town, owned by a famous chef and his wife. We will get it done. This is only a small hiccup."
I bristled at the 'and his wife' comment as if I was a nobody, just someone's accessory. But it was not time to educate this man on the finer points of independent women. If Yasahiro's fame would carry us through this mess, then so be it.
"I'll get your answers, and I'll get them soon," I assured him.
As soon as possible.
---
Want to purchase THE DAYDREAMER DETECTIVE FINDS HER CALLING?
This book is available for pre-order on Amazon, Apple Books, Nook, Kobo, and Google Play! View the cover, blurb, and purchase THE DAYDREAMER DETECTIVE FINDS HER CALLING via my website…