It's Teaser Tuesday for THE DAYDREAMER DETECTIVE FINDS HER CALLING!
When we last saw Mei in MATSURI AND MURDER, she was pregnant, so of course, she has a new baby in THE DAYDREAMER DETECTIVE FINDS HER CALLING. I remember being a new mother pretty vividly, even though it was over 12 years ago! That sense of wonder, looking at your own child, and frustration at not knowing why they're crying never fades. Though there are lots of periods of childhood I have forgotten about, the baby years are still crisp in my mind, like that month when my oldest cried every night for three or four hours before bedtime. Yikes. This is why I'm completely gray at 43.
When it came time to give Mei a baby, I knew she would look at her child like a mystery. She would try to figure out why her baby girl did the things she did, and if she couldn't figure it out, she would make the best of it. Mei and Yasahiro are tired in this book, tired and stretched thin. But they tackle parenthood like the fighters they are! All the while running their restaurant, tea shop, helping Mei's mother, building a new house, and solving a murder mystery! Phew! I'm exhausted just typing that!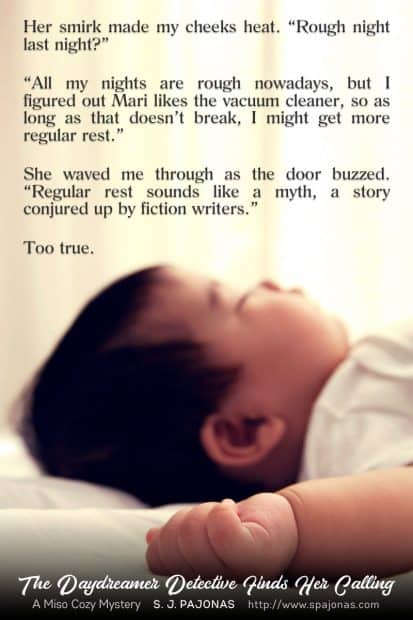 Anybody else out there had/have a baby who loved white noise? My oldest used to sleep with the hair dryer on. Lol. Yeah. We got one with a "cool" feature, turned that on, and ran it all night long. Ah, memories.
Want to purchase THE DAYDREAMER DETECTIVE FINDS HER CALLING?
This book is available for pre-order on Amazon, Apple Books, Nook, Kobo, and Google Play! View the cover, blurb, and purchase THE DAYDREAMER DETECTIVE FINDS HER CALLING via my website…