It's Teaser Tuesday for THE DAYDREAMER DETECTIVE FINDS HER CALLING! I've decided to try out a new teaser image size for my website and Pinterest. I hope you like them! I have 4 teasers to get us through to the launch of the book, so let's get started!
As some of you may remember from THE DAYDREAMER DETECTIVE RETURNS A FAVOR, Mei had to live with the rampant rumors of being the town witch while she was battling with Kohei Watanabe. Of course, being Mei, she didn't necessarily dismiss the rumors, but added on to them instead. And in true small town fashion, everyone still remembers the rumors, even if Kohei is no longer Mei's antagonist.
Poor Mei. All she's trying to do is build her new house! But it's not that easy when Kohei's buddies are on the construction crew.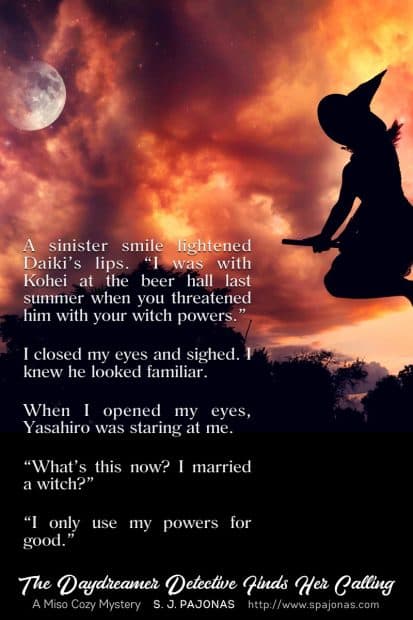 Maybe she should use those witch powers to teach some bullies a good lesson, huh?
Want to purchase THE DAYDREAMER DETECTIVE FINDS HER CALLING?
This book is available for pre-order on Amazon, Apple Books, Nook, Kobo, and Google Play! View the cover, blurb, and purchase THE DAYDREAMER DETECTIVE FINDS HER CALLING via my website…