As some of you will remember, I featured Brandon Barr a few months ago right after he had passed away from cancer. He is very much missed in the author community, and we still think about him all the time.
Today, I'm featuring the third book in his Song of the Worlds Series which just published last week. Brandon did his best to finish off many of his stories before he passed, and he and his family also asked other authors to help edit and publish those stories posthumously. I'm sure we'll get a few more Brandon Barr stories in the coming months!
Right now, all of the books in this series are only 99¢, so if you love epic fantasy you can pick the series up for a bargain.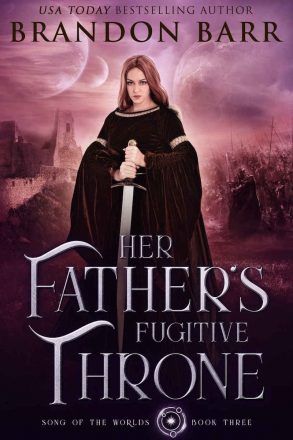 The shadow of the Beast stalks Meluscia's every move.
The prophetess's dire warning looms as Meluscia fights to attain the throne. All the while, the dark Master of the Star Portal threatens to slay her and her band of prophets, bringing the world of Hearth into chaos.
Torn from the world he knows, Aven is held captive aboard a ship of ruthless mercenaries. Winter's vision of the horrible creature becomes reality for Aven, and he must face the monsters of his past and present…for there is nowhere to run.
Her Father's Fugitive Throne is Book Three in the epic sci-fi fantasy saga SONG OF THE WORLDS. Continue the series today!
Check out RISE OF THE SEER on…
Amazon
---
Find This Author Online
Learn more about Brandon Barr on…
Epic Fantasy Fanatics: https://epicfantasyfanatics.com/brandons-buddies/
Website: http://www.brandonbarr.com