What a year! When I set this goal for my 2018 Audiobook Challenge, I thought I'd be able to listen to 30+ audiobooks. Nope. Not even close. I barely listened to one audiobook per month. And I know why. There were a few audiobooks that I listened to that I didn't particularly enjoy, so I would dread going to listen to them. I didn't want to listen to them! So I would find podcasts to listen to instead. (Incidentally, I found great podcasts this past year that I really enjoy.) I WON'T BE DOING THAT AGAIN. Though it pains me to abandon audiobooks when I'm not enjoying them, mostly because of the costs associated in acquiring audiobooks I'm interested in, I will not force myself to continue with audiobooks I'm not enjoying.
Learn more about the Audiobook Challenge at the Caffeinated Reviewer, and be sure to sign up if you're interested! It's a great low-stress challenge, and it'll get you into audiobooks. Win win!
Here's a list of everything I listened to this year!
I thought I might be able to squeeze in one more audiobook before the end of the year, but I was not that lucky. There's been so much going on! So this is it.
What was my favorite audiobook of the year?
Oh, this is a hard one. I really loved the John Scalzi books I listened to, and I also really enjoyed the Expanse audiobook as well, but I think I'm going to settle on SCYTHE by Neal Shusterman. This was such a great story! I was constantly thinking about the premise and what a world would be like if it escalated in the way the book suggested. The narration was fantastic too. Greg Tremblay has a great narrator voice. The follow-up book in this series, THUNDERHEAD, was excellent as well.
Read my original thoughts on SCYTHE in Book Chat #41.
2019 Audiobook Challenge
For 2019, I'm going to stick to the Stenographer level (can listen while multitasking) 10-15. I think this is a doable goal for me, especially as I'll be increasing my miles-walked again this year, and it will be gravy if I manage more than the 15!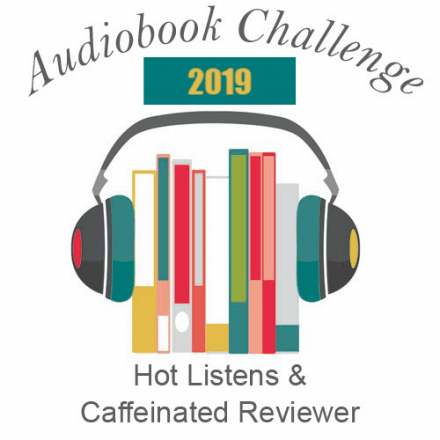 Want to participate in the 2019 Audiobook Challenge? Head on over to Caffeinated Reviewer and sign up!
Did you have a favorite audiobook this year? Let me know in the comments.