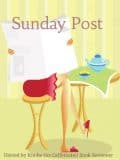 The Sunday Post is a weekly meme hosted by Kimba @ Caffeinated Book Reviewer. It's a chance to share news. A post to recap the past week, showcase books and things we have received and share news about what is coming up for the week on our blog.


---
Yep. It was another busy week around here. I'm sure that surprises no one now.
On Monday, I went for a cold walk in the park, treated myself to rice balls (onigiri) for lunch, and then hit the 10,000 word mark on Daydreamer 5! My husband wasn't home this night so I watched The Flash with the girls in the evening.
On Tuesday, I ran some errands in the morning that included buying bagels and sending them to my friend, Joy, in Hawaii. She recently sent me a care package of Japanese and Hawaiian goodies and so I offered to send bagels in exchange. Then I went for another walk and got some writing done. My husband wasn't home again so I again watched The Flash with the girls in the evening.
Wednesday was busy. I went to the chiropractor and acupuncturist. I'm so glad I have a regular appointment with them every other week. My lower right back had been killing me so I got them to really work on it. It's much better now! It had been hurting for weeks! Now, my right shoulder is acting up. Sigh. Anyway, after that appointment I worked at home and then took the kids to tennis in the evening. Once again, no husband so we ate dinner together and watched The Flash.
Thursday, I picked up the last of my pottery from the studio, went grocery shopping, and then hung out with the girls this evening again, because AGAIN, no husband. Yes, a busy week for him as well.
Friday, finally, the husband was home! We went to the holiday concert for my youngest at the school in the morning. Then I went out to the mall to pick up a few last Christmas presents and get lunch. I then spent the afternoon writing while the husband went into the city for a meeting and came back home.
Saturday was nice! It was 50ºF here! So I went for a walk after lunch and got more writing and other admin work done. We played Monopoly together as a family on the Playstation, and then my husband I watched more of The Crown before bed.
Today, I decided not to walk. I took it easy on the couch this morning, had a late lunch, did more admin work, and then I worked in the kitchen most of the afternoon while my husband took the kids to go see the new Spiderman movie. I blanched and peeled about a pound of almonds, cleaned up the counters, made bread, and soup for dinner. I also got some more writing done.
All in all, a busy but good week!
What else happened?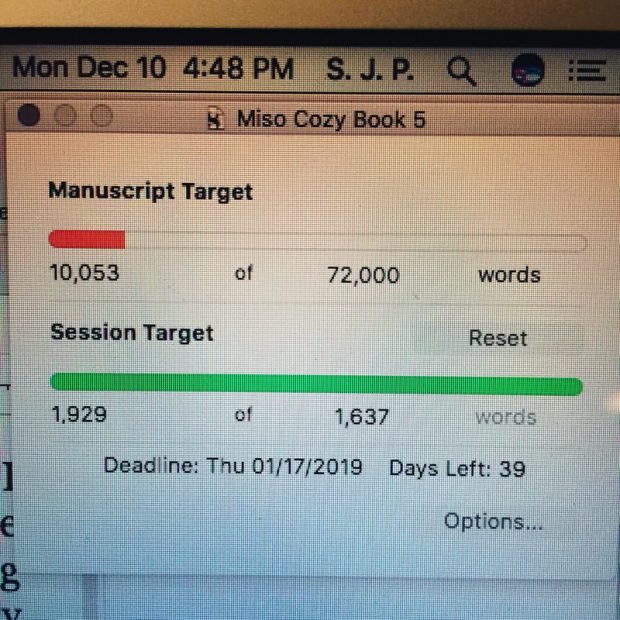 I crossed the 10k mark on Daydreamer 5! This is always a special milestone for me.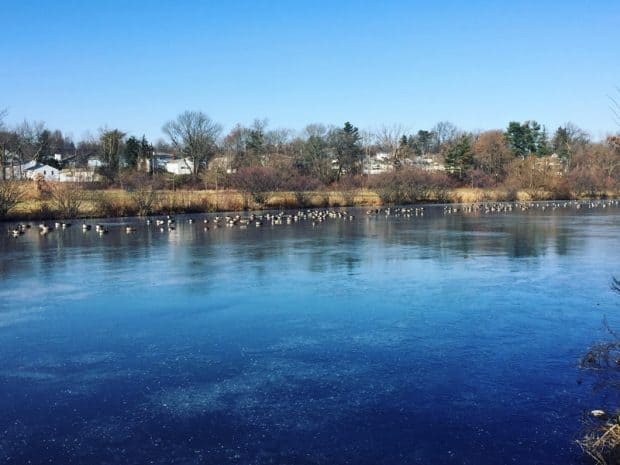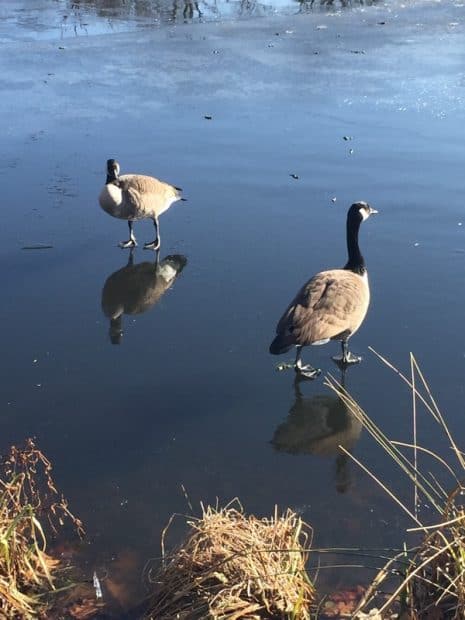 The lake in the park is freezing over.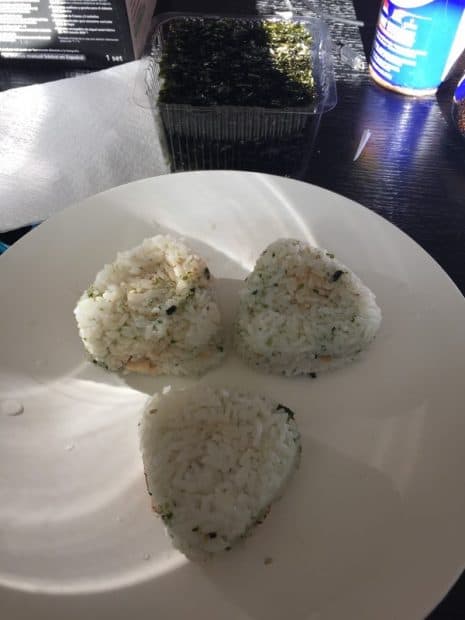 Mmmm, onigiri for lunch!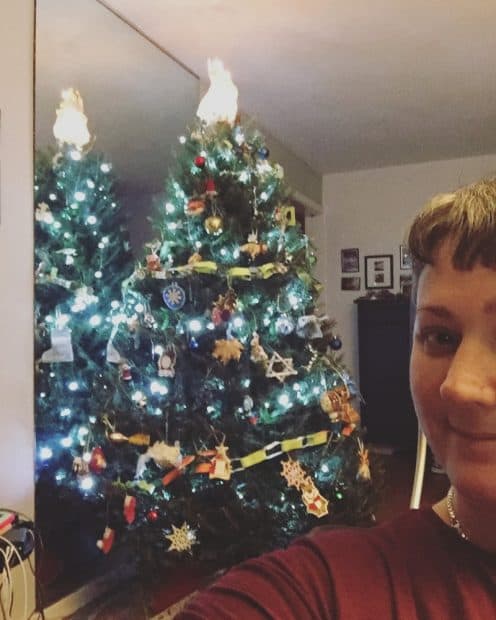 Love having the Christmas tree around!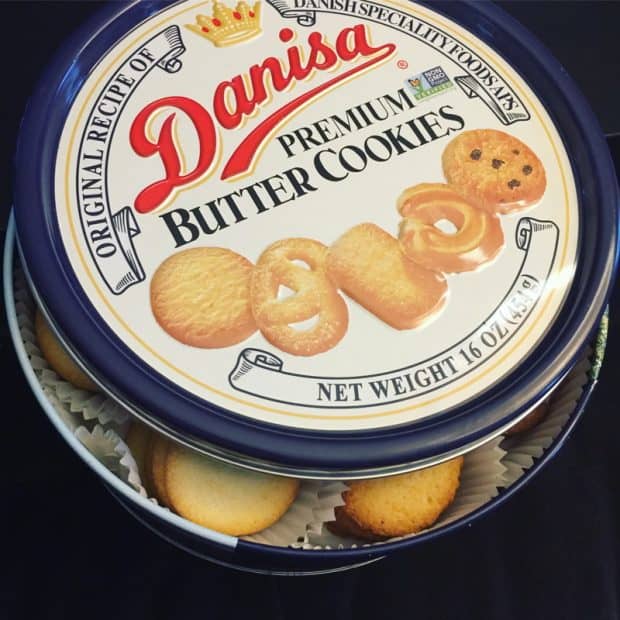 Look! A Danish butter cookie tin that has actual cookies in it and not sewing notions! I cracked this open and said, mmmmmm.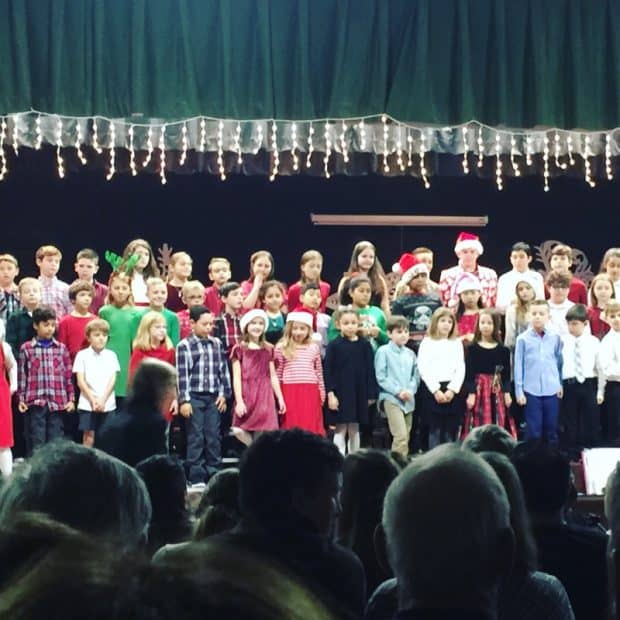 The kids had a great winter holiday concert.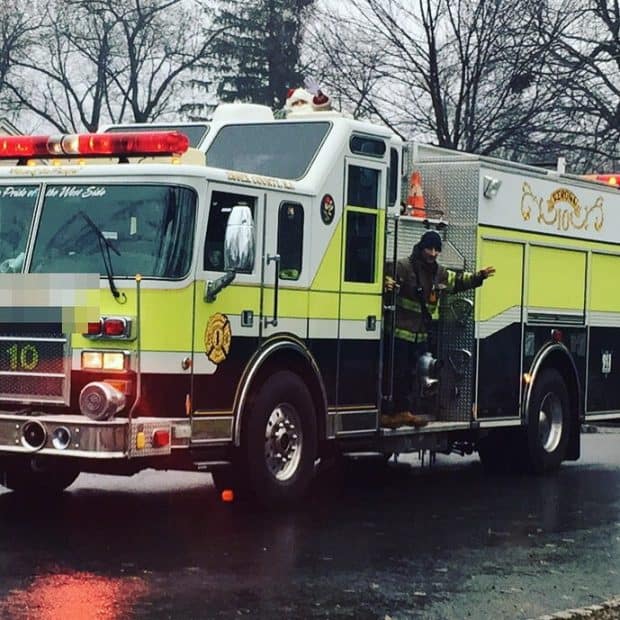 And finally, Santa Claus came around on the fire truck today! This is a great holiday tradition in our town, but I felt bad for Santa. It was cold and rainy today!
Have a great week everyone!