This author feature is a little different today. I featured Brandon Barr in my newsletters in the past because he was a fantastic and eloquent author and also a good friend. Tragically, Brandon passed away on Wednesday after spending several years fighting leukemia. I'm saddened by this loss, and I've spent the last few days thinking of him.
I loved talking to and spending online time with Brandon. We briefly worked on a Scifi and Fantasy project together, a project we both had a lot of love for but not a lot of time. I was super busy with family and writing, and he was busy with the same while also fighting cancer. We had a lot in common though! We both liked the same kind of epic stories and we talked of our favorite stories and sharing them with the world.
One of the beautiful things about being an author is that our work will live on far beyond our deaths. The proceeds can continue to go to our families and help out even though we're not around anymore. Once Brandon found out that he only had a few months to live, he kept on writing and many fantasy authors were there to help get his books to publication so his wife and three young boys could get the support they need.
Usually in these feature posts I ask the author to tell us about their books. I'm unable to do that today, but here's what Brandon had to say to Epic Fantasy Fanatics in his last days…
Fantasy fiction is a blessing in that it allows authors to tell heroic stories that WE need to hear. We may sit in an office chair half the day, or be stuck in traffic, or need to get groceries, or this or that; but fantasy fiction touches deep into something that humans long for. That under our suits and ties or tee-shirt and jeans, we have a hero or heroine inside of us. They may be timid, but this heroic person inside of us is an admirer of fantasy stories where they can identify with the characters, root and cheer for them, and in some cases, want to be them (even if the going is very difficult). We long to fix the world by going on a quest, or throwing the One Ring into Mount Doom, or playing out some great prophetic role like Paul Atreides in Frank Herbert's sci-fi fantasy classic, Dune.
So very true.
If you love fantasy, you should definitely pick up RISE OF THE SEER and check out Brandon's other books too. Remember that by purchasing his books, you're also helping out his family now that he's gone. There's also a Go Fund Me to help Brandon's family as they deal with his passing.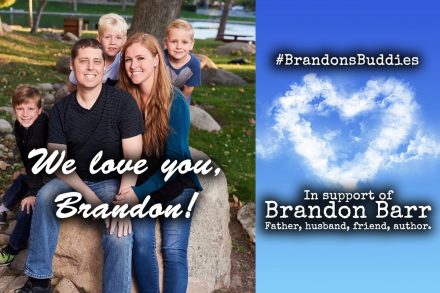 I know I will miss Brandon. May he rest in peace.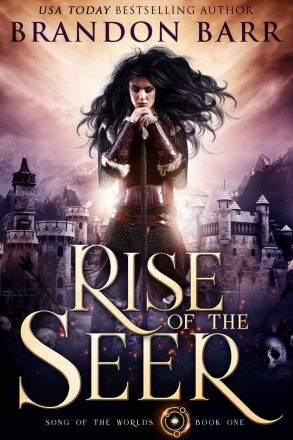 Two women. Two worlds. One epic destiny.
Discover a dazzling epic fantasy series by USA Today Bestselling Author Brandon Barr. #BrandonsBuddies
A god-gifted young woman is chosen for a grim task– one that will take her beyond the boundaries of her own world. Winter's chilling visions of the future make clear that her choices will not only affect the success of her mission… but whether those she loves will live or die.
On the distant world of Hearth, Meluscia is the daughter of a dying king. As he wages a bitter war in the north, a growing evil devours the villages of the east. She would turn her kingdom's forces to face the emerging threat– but first, she must gain the throne… and confront the secret desire that torments her soul.
Though worlds apart, Meluscia and Winter's destinies are bound together by portals and an ancient prophecy that promises to pull friend and foe together in a devastating collision.
An excellent choice for fans of Anne McCaffrey and Terry Brooks. RISE OF THE SEER is Book One in the Song of the Worlds series.
Check out RISE OF THE SEER on…
Amazon
---
Find This Author Online
Learn more about Brandon Barr on…
Epic Fantasy Fanatics: https://epicfantasyfanatics.com/brandons-buddies/
Website: http://www.brandonbarr.com