It's been a while since I featured a cozy mystery for all of my cozy readers! This one is currently free so pick it up while the getting's good.
I asked Kelly, "Why did you write A SIGHT FOR PSYCHIC EYES?"
Kelly replied…
I've always been fascinated by the sixth sense. I think we all have it to some degree—you know those moments when you just know something is going to happen before it actually happens. Well, I did some research and discovered something called psychometry, which is where a person can read the energy off objects. It intrigued me so much that I had to write about a psychic P.I. who could do just that.
Oh cool! I didn't know about psychometry. I'm going to have to learn more about that particular psychic power. This sounds like a great jumping off point for a novel!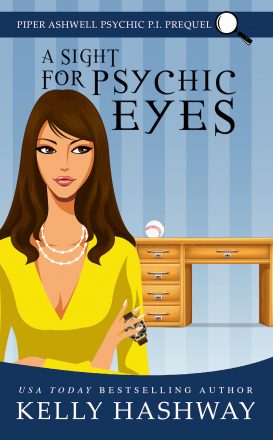 Being psychic doesn't mean private investigator Piper Ashwell has all the answers.
She's surrounded by people who either don't believe in her abilities or want her to solve all the world's problems.
When nine-year-old Eric Danson goes missing in the middle of the night, Piper is reminded of her first case ever, when she was only twelve years old and her ability to read objects first surfaced. Now, she's hoping to use that ability to bring the boy home unharmed.
But things only get worse when the boy who's been bullying Eric goes missing as well. With a kidnapper on the loose, Piper will need to prove she's the best P.I for the case. But can she find the boys before it's too late?
Check out A SIGHT FOR PSYCHIC EYES on…
Amazon Apple Books Nook Kobo
---
Find This Author Online
Learn more about Kelly Hashway on…
Website: http://www.kellyhashway.com
Facebook: https://www.facebook.com/KellyHashwayCozyMysteryAuthor
Twitter: https://twitter.com/kellyhashway
Instagram: https://instagram.com/khashway/