I haven't done a Book Chat since the beginning of September! And unfortunately I don't have a lot of books to show for two months of reading, mostly because I was writing a lot, but also because I had quite a few did-not-finish books that I won't go into here.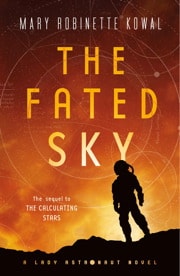 THE FATED SKY by Mary Robinette Kowal
Guys, this series is AMAZING. I was so excited to get back into this universe after THE CALCULATING STARS and this book did not disappoint. I loved every moment of this trip to Mars. It was so well thought out and plausible, human and touching. I did not want it to end. It's official, I'm a Lady Astronaut fan! And I'm super excited to learn there'll be a lot more books in this series. Yay!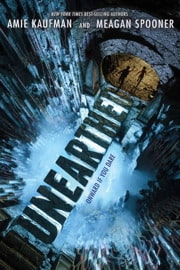 UNEARTHED by Amie Kaufman and Meagan Spooner
I mentioned this book once or twice in my sci-fi tropes post a few weeks ago. I really enjoyed the Starbound Trilogy by this author duo, so I had to pick this one up. It was just what I needed after trying to read two failed books in a row. (Let's not get into that.) If I had to describe this book I'd say it was Indiana Jones on a faraway planet with a great little romance and lots of surprises. The ending was quite the cliffhanger! I have pre-ordered Book 2 and I hope it's just as fun.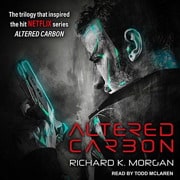 ALTERED CARBON by Richard K. Morgan
It took me a VERY long time to get through this audiobook. VERY. And I ended up having to fast-forward through the sex scenes. Maybe it's just me, but I can't read sex written by men anymore. It's just not at all appealing. This story, though, is just as great as the TV show it's based upon.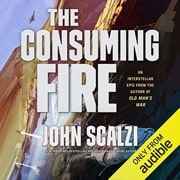 THE CONSUMING FIRE by John Scalzi
As soon as I was done with ALTERED CARBON, I jumped right on THE CONSUMING FIRE and was rewarded with another fast-paced, funny, and intriguing John Scalzi book. There's a reason why John Scalzi is my favorite author, and you can see it in this series. A wide-sweeping story! Funny and interesting characters! (Kiva Lagos in my official favorite.) Lots of surprises and twists! This book and series has it all. I caught myself laughing out loud while walking in the park, mainly because Wil Wheaton's delivery was so on-point. This series is a joy in audio. I highly recommend it.
And that's it for this Book Chat! There were other books read (one beta read for a friend and lots of re-reading my own work) and plenty I didn't finish or like, but these were the best of the bunch. Hope they give you some ideas of what to try next!