I love space opera, so I asked Andrew Broderick to drop by today to tell us about his new series!
I asked Andrew, "Why did you want to write THE RELISSARIUM WARS?"
He replied…
With this series, I wanted to write some true space opera, aka "science fiction without the science." There's no explanation of how a warp drive works here, but there is nonstop action, and a colorful multi-species cast of characters.
Nonstop action and a colorful cast of characters! Both things I enjoy in my space opera.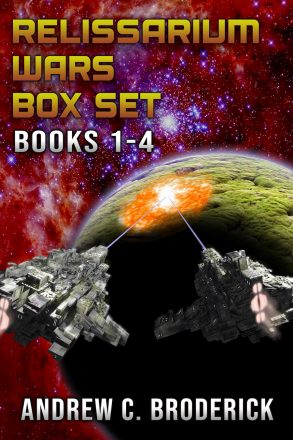 An interplanetary war without rules. A heartless enemy. One farmer's fateful choice could transform the galaxy…
4 books of action-packed space opera with portals to endless new dimensions!
Theo is tired of working so hard to just barely feed his family. Turning to illicit dealings to supplement his income seems like the perfect crime, until a deadly double-cross puts a target on his chest. To protect his wife and children, he'll have to exchange favors with a dangerous rebel group…
After suffering a tragic blow, there are no lengths to which Theo won't go to have revenge. With new dangers lurking on every mission, he must join the ranks of the rebels and fight his way to freedom… or die trying.
As a civil war rages and the lines blur between good and evil, will Theo have to sacrifice his humanity to avenge his past?
The Relissarium Wars: Books 1-4 contains the first four books in a page-turning space opera series. If you like fast-paced action, intricate world building, and characters who never give up, then you'll love Andrew Broderick's intergalactic saga.
Check out THE RELISSARIUM WARS on…
Amazon
---
Find This Author Online
Learn more about Andrew Broderick on…
Facebook: https://www.facebook.com/andrewbroderickauthor/
Website: http://www.andrewcbroderick.com