Today is the release day for Tracy Krimmer's ALL THAT MATTERS, the final book of the ALL THAT Series. People, I'm SO PROUD of Tracy for finishing this series. She's not really a series writer, so this is a big deal for her to finish this off. I really loved ALL THAT MATTERS! I cried twice reading it. Lol. So yeah, it's that good. If you love a romance book with mature, developed characters, this series is for you… and it's complete now!
I asked Tracy, "What's your favorite part of the ALL THAT Series?"
She replied…
My favorite thing about the All That series is the main character's grandma, Stella. Of all the characters I've written, I've found her to be the most fun. She's sarcastic, opinionated, and has so much love to give.

The last book of the series, All That Matters, I dedicated to my grandmother's, Phyllis and Dorothy. One I had in my life for a short time–I was eight or so when she passed away–and the other I never had a chance to meet. I wanted to explore a grandmother-granddaughter relationship, one I never really had. I was important to me that Stella play an important role in Dory's life.
Stella is one of my favorite characters in the series! I love watching Stella and Dory interact and spend time together. It was such a wonderful, sweet, and sometimes tense relationship. But ultimately, family wins over!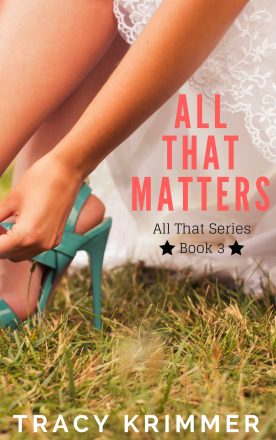 Dory Walker finally has both feet on the ground and looks forward to one thing only–becoming Mrs. Harris Malone. Her wedding is coming up, and she's put her music career behind her for good so she can focus on what's important in her life. Family comes first.
Harris Malone is getting used to his young daughter living over an hour away but now faces a new challenge–unemployment. With a wedding in a few months, he's in need of money, and he's not sure how he's going to find it.
But as Dory and Harris plan their happy future together, a trail of lies follows them. From secrets to hidden truths, every aspect of their relationship will be tested. Will they say "I do," or will a web of deceit force them into saying "I don't?"
Check out ALL THAT MATTERS on…
Amazon Apple Books Nook Kobo
---
Find This Author Online
Want to learn more about Tracy Krimmer? You can find her online here…
Facebook: http://www.facebook.com/KrimmerAuthor
Instagram: http://www.instagram.com/tracykrimmer
Twitter: http://www.twitter.com/tkrimms
Pinterest: http://www.pinterest.com/tkrimms
YouTube: https://www.youtube.com/c/TracyKrimmer
BookBub: https://www.bookbub.com/authors/tracy-krimmer