When I saw my friend Jill was writing this book, I squealed with delight. First, the cover is gorgeous. Second, the story! As authors, I think we're required to love libraries, right? But we really do. And seeing magic surrounding a library is so perfect an idea.
I asked Jill, "What's your favorite thing about the Last Library Series?"
She replied…
My favorite thing about the Last Library series is that it's a love letter to books and how much I love them. The weight of them, turning that crisp page, the smell of old books, and remembering what it was like those first few times you fall in love with a book.

The main characters relationship with books is new and forbidden, setting her on a harrowing journey.
Doesn't that sound intriguing? I can't wait to read this one!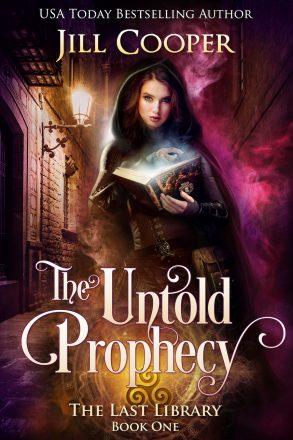 For the love of books everywhere…A rebel girl with the hidden ability to read sets off to save the world one book at a time.
One girl, Tarnish Rose, rescues what was meant to be destroyed. Finding an occasional book long forgotten, those heart-warming tales speak to her very soul and could land her in the hands of the Dark Lord Creighton.
Her ability to read is a closely guarded secret, but as the man she's betrothed to is set to be killed for violating the code of conduct, Tarnish finds her secret on the verge of being discovered.
Unable to let this happen, Tarnish is about to launch on the journey of her life not only to free him but to stop the Dark Lord Creighton himself. With the hunter death squads on her tail, she'll rush for a waiting train and discover the world is full of secrets and join forces with other rebel librarians.
If the death hunters don't get her first.
Check out THE LAST LIBRARY on…
Amazon
---
Find This Author Online
Want to learn more about Jill Cooper? You can find her online here…
Website: http://www.jillacooper.com
Facebook: http://www.facebook.com/jillacooper
Twitter: http://www.twitter.com/jillybug