I'm featuring a few new authors (and a few you already know) on the blog this month! I've known Nicole a long time now and she's one heck of a prolific writer. Today, I asked her to stop by and tell us about her new release, LEGEND.
I asked Nicole, "What inspired the story of LEGEND and The Queenmaker Series?"
She replied…
I've always been a big history and legends buff, and King Arthur and Camelot has always been one of my favorite folklore heroes. I also love the what if game. What if King Arthur had been a teenage girl when the sword was pulled from the stone? What if she were a maid and had that as another obstacle? And The Queenmaker series was born.
I've always loved the tales of King Arthur as well. Did anyone else watch EXCALIBUR as a kid? My father loved that movie and I remember watching it a lot. I mean, who doesn't love a lady in a lake giving out swords??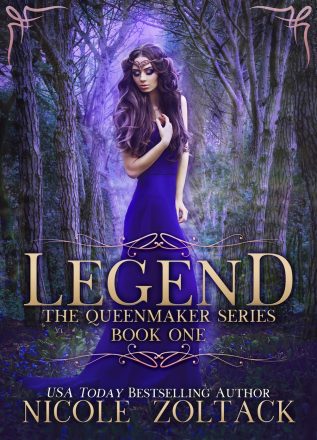 A maid who will become legend…
Sixteen-year-old Alena longs for a world where peasants, servants, and nobles are all equal. Truly, that will never be possible until the day when she removes a sword from a stone and might have the chance to become queen… if she can rally those same peasants, servants, and nobles behind her.
Legend is a King Arthur retelling with Arthur as Alena, a maid who can possibly become so much more than she ever dreamed possible. Perfect for fans of The Mists of Avalon, The Selection, and Red Queen.
Check out LEGEND on…
Amazon
---
Find This Author Online
Want to learn more about Nicole Zoltack? You can find her online here…
Website: http://www.NicoleZoltack.com
Author newsletter: http://www.subscribepage.com/m0k3l8
Amazon: http://amzn.to/1PpYUI0
FB Fan Page: http://www.facebook.com/authorNicoleZoltack
FB Street Team: https://www.facebook.com/groups/NicolesRockinReviewCrew/
Blog: http://nicolezoltack.blogspot.com/
Twitter: https://twitter.com/NicoleZoltack
Authorgraph: http://www.authorgraph.com/authors/NicoleZoltack
Bookbub: https://www.bookbub.com/authors/nicole-zoltack
Google+: https://plus.google.com/112850281244279638997/posts
Goodreads: http://www.goodreads.com/author/show/2887586.Nicole_Zoltack
Linkedin: http://www.linkedin.com/in/nicolezoltack
Pinterest: http://pinterest.com/nicolezoltack
Instagram: https://www.instagram.com/nicolezoltack/
Wattpad: http://www.wattpad.com/user/NicoleZoltack
Tumblr: http://nicolezoltack.tumblr.com