Today's the day! MATSURI AND MURDER is now available on its own! It was a great run, working with other authors to produce DESTINATION: MURDER. We had a lot of fun, and we hit the USA Today bestseller list! Hopefully, I got some new readers who are here and checking out the blog.
This is my third published work for the year, which means I won't be publishing anything more in 2018. I am working on a lot of new works behind the scenes, and I hope to also be working on another Miso Cozy Mystery early in 2019.
MATSURI AND MURDER takes place right after THE DAYDREAMER DETECTIVE RETURNS A FAVOR. So, while Mei is still pregnant in this novella, she is much further along and still helping her mother recover from the typhoon. There are more mysteries to come in Chikata, more adventurous with Yasahiro, Goro, and the gang, and more of life's troubles for Mei to figure out.
I hope you enjoy this novella! It was a lot of fun to write, and I'm looking forward to writing in this world again soon.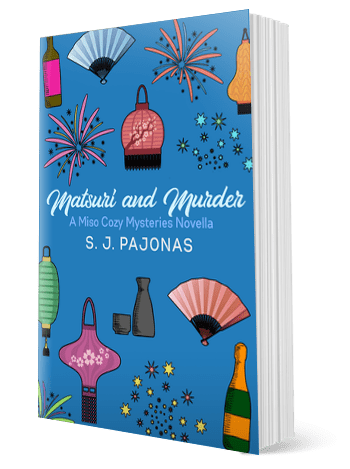 Even on vacation, Mei can't get away from murder. Traveling to Kubako for a three-day matsuri festival and fireworks, Mei, Akiko, and Kayo are just looking for some relaxation and tasty food, not a weekend full of drama. But when a local celebrity is poisoned in Kayo's family brewery, Kayo's father is the main suspect. Now, Mei, Akiko, and Kayo must put their meddling ways to the test. With the help of Kayo's mother and some local friends, they gather evidence while dodging hotheaded detectives and another dead body. But time is running out and the murderer has everything they need to bury the evidence and deflect suspicion onto someone else. How will they find the murderer when the matsuri is in full swing and everything points to the wrong suspect?
MATSURI AND MURDER is a Miso Cozy Mysteries novella that will keep you on the chase and rooting for Mei until the very end!
Learn more and purchase MATSURI AND MURDER
I'll be back on Friday for my 5th anniversary in publishing post!