The final file has been turned in, the cover has been designed, and the book goes out to my ARC Readers today! So I thought I'd introduce this new story in the Miso Cozy Mysteries universe.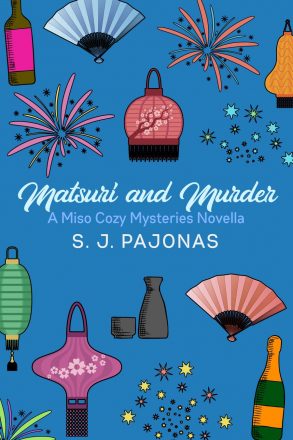 Even on vacation, Mei can't get away from murder. Traveling to Kubako for a three-day matsuri festival and fireworks, Mei, Akiko, and Kayo are just looking for some relaxation and tasty food, not a weekend full of drama. But when a local celebrity is poisoned in Kayo's family brewery, Kayo's father is the main suspect. Now, Mei, Akiko, and Kayo must put their meddling ways to the test. With the help of Kayo's mother and some local friends, they gather evidence while dodging hotheaded detectives and another dead body. But time is running out and the murderer has everything they need to bury the evidence and deflect suspicion onto someone else. How will they find the murderer when the matsuri is in full swing and everything points to the wrong suspect?
MATSURI AND MURDER is a Daydreamer Detective novella that will keep you on the chase and rooting for Mei until the very end!
So, I got the idea for this novella from a few avenues. Funny to think that I actually used this book I have, 500 MYSTERY MURDER SCENES FOR WRITERS, to get my murder and victim all set. It suggested a "opera soprano is poisoned" and that gave me the idea to make the victim the star of the matsuri festival that Mei visits with Akiko and Kayo.
As for the matsuri, I loosely based it off of this Benkei Matsuri that's held the first weekend in October every year in Wakayama. Kubako, Kayo's hometown, is a fictional town, one I based off of Kumano, in Mie Prefecture, which is just across the peninsula from Wakayama. It's a bit of a mashup of places, names, and festivals, but it gets the job done. I wanted Kubako to be a fictional town because of what I plan to do with it in the future…
Because, this novella is also the start of a new series I hope to get going in 2020! In MATSURI AND MURDER, I introduce you to Kubako and Kayo's family and friends, and they will be the stars of a new series centered on Kayo! So not only is this a novella in the Miso Cozy Mysteries Series, but it's also a prequel for this new series I'm planning (I have no idea what I'll be calling it, so hang tight there.)
I hope you enjoy MATSURI AND MURDER! It's a 40,000 word novella with a true beginning, middle, and end, a full mystery, and plenty more fun and travel in Japan. It will be available on September 14th on Amazon, Apple Books, Nook, Kobo, Google Play, and Direct.
Thanks for all your support!