It's time to feature another of the talented authors that I'm working with for the DESTINATION: MURDER box set!
Today, I have Angela C. Blackmoore on the on the blog to feature her book, HOT TEA AND COLD MURDER.
I asked Angela, "What inspired you to write this book?"
She replied…
I was inspired to write a cozy mystery in the state that I live. Oregon! I wanted to showcase the beauty of my state and spin a tale of mystery at the same time. I think I've succeeded!
Many authors seem to be inspired to write about their home towns or states!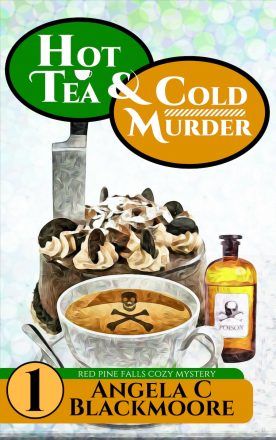 Struggling from the loss of her husband, Abby Morgan finds herself trying to find a new life in a small Oregon town called Red Pine Falls. It has everything she'll need to recover. A new best friend, a handsome park ranger, and a loving grandmother.
If only her friend, Becky, weren't accused of murdering a local land developer, it might just be perfect.
Check out HOT TEA AND COLD MURDER on…
Amazon
---
Find This Author Online
Want to learn more about Angela C. Blackmoore? You can find her online here…