For my 40th Book Chat, I thought I'd do something different! I have come to realize, accept, and love that Young Adult Sci-fi is probably my favorite genre to read. I love a good mystery, and I do love science fiction, but when I need something to read, I always reach for YA sci-fi first.
Did you know that REMOVED was originally written as YA sci-fi? In the first iteration, Sanaa was 16 and grappling with her fate. When I decided to self-publish, I changed her age to 20, which ultimately made a lot more sense for the story, and I haven't written YA sci-fi since. But I still love it, and I can't get enough.
So, I thought today, I would share with you my favorite YA sci-fi novels. YA sci-fi encompasses lots of subgenres: futuristic Earth, dystopians and utopians, local and far-flung space, post-apocalyptic, and more! So there's always something to satisfy me.

UGLIES, PRETTIES, SPECIALS, EXTRAS by Scott Westerfeld
This is the series that got me started on YA sci-fi to begin with, and it's still a winner. I re-read UGLIES not too long ago and I still loved it. If you haven't read this series, DO IT NOW.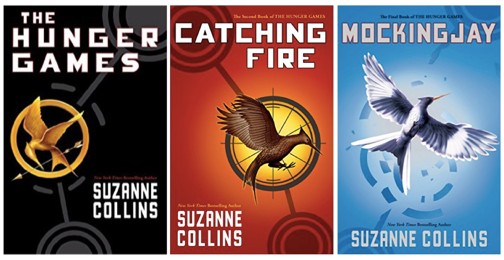 THE HUNGER GAMES, CATCHING FIRE, MOCKINGJAY by Suzanne Collins
I read THE HUNGER GAMES not long after it came out because a friend of mine was working for Penguin and passed it on. I remember being drawn in by the entire series and eagerly awaiting each book.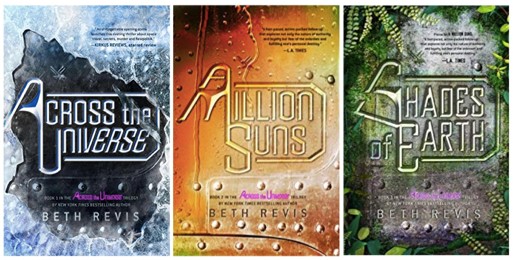 ACROSS THE UNIVERSE, A MILLION SUNS, SHADES OF EARTH by Beth Revis
I think the same person who gave me THE HUNGER GAMES gave me the first book in this series too (she's such an enabler). I really loved the mystery of this whole series and seeing the heroine think for herself. Plus this series uses one of my favorite sci-fi tropes, a generation ship to the stars. This whole series kept me captivated from beginning to end.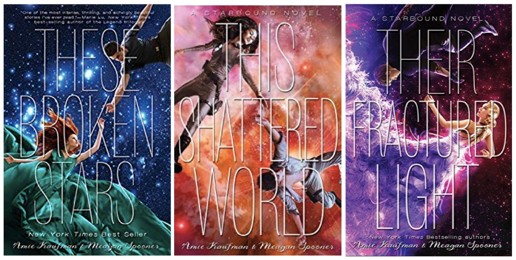 THESE BROKEN STARS, THIS SHATTERED WORLD, THEIR FRACTURED LIGHT by Amie Kaufman and Meagan Spooner
The covers drew me to this series before I ever read the blurb. But I love that this whole story takes place in far off planetary systems and there's a great mystery surrounding all the books. Plus, some young adult romance amongst the conflict. All things I love. I remember especially devouring the second book in this series while on vacation on year. I couldn't put it down.

CINDER, SCARLET, CRESS, WINTER, FAIREST (Not pictured) by Marissa Meyer
Here's a series that started out slow for me. I remember reading CINDER and thinking, "Hmmm, I don't know," because I called all of the twists. But I loved world and the characters, and I figured that, with more books, I was bound to be surprised with the outcome. And I was. Boy, am I glad I kept reading! I still haven't read FAIREST but I plan to soon. I have a signed-by-the-author copy sitting on my shelf.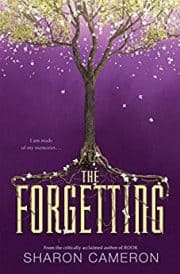 THE FORGETTING by Sharon Cameron
This book totally blew me away. At first, you're not sure if it's sci-fi or some post-apocalyptic Earth, but by the 50% mark, you begin to really see this world for what it is. I'll admit that the second book in the series did not grab me like the first book did, and I've set it aside to try and read it again in the future. But this first book stands on its own. You don't want to miss it.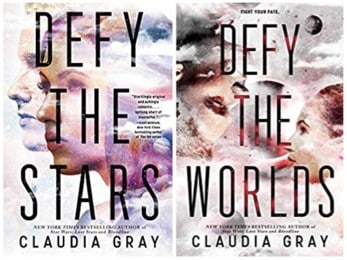 DEFY THE STARS, DEFY THE WORLDS by Claudia Gray
I listened to both of these in audiobook and they were a treat! This future has Earth as part of a conglomerate of worlds all linked with gates. Its world-building is strong and the characters are fun and easy to get to know. I loved every second of both of these.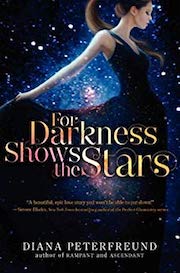 FOR DARKNESS SHOWS THE STARS by Diana Peterfreund
This book. Sigh. I'll admit that I personally know this author (we're friends!) but that doesn't sway my opinion in any way. I love that it's Jane Austen in a future Earth, a future Earth that has shunned genetic advancement. The heroine is strong and yet still vulnerable. I loved her to pieces. Diana's writing is rich and beautiful, and her world sucked me in immediately. I still have to read the second book in the series, but I've queued it up and hope to read it this summer.

UNWIND, UNWHOLLY, UNSOULED, UNDIVIDED by Neal Shusterman
I really thought this series was dead after the first book. I read it when it first came out AGES ago (I was still living in Brooklyn so pre-2010) and then there was nothing but crickets. But eventually the rest of the series came out and I consumed them all on audiobook. This is a scary future, of people being "unwound" for their body parts. But Shusterman took the theme and ran with it. The story was compelling from beginning to end. I'm currently listening to the first in his new series, SCYTHE, and enjoying that one too.
LIFE AS WE KNEW IT by Susan Beth Pfeffer
I only read this first book in the series and the rest I plan to read at some point, but this book stuck with me for years after I read it. It was so moving and immediate. And it made me want to horde canned goods something fierce. It could be the zombie apocalypse without the zombies and that's probably why I really liked it.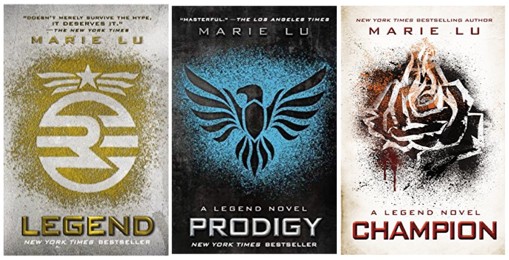 LEGEND, PRODIGY, CHAMPION by Marie Lu
And here's the last of my recommendation, a series I'm glad I stuck with. The first book annoyed me in print because of the way they designed the book, so pick this one up in ebook. This is another future world dystopia but had some very interesting characters with a believable and rich romance. I fell in love by the second book and the third book left me in tears, good tears.
So that's it! Hope you found something here to read! These are all my favorites and I hope they become your favorites too.
Do you have some YA sci-fi to recommend to me? Please leave your recommendations in the comments!