For the next two months, I'll be featuring some of the talented authors that I'm working with for the DESTINATION: MURDER box set!
Today, I have Abby L. Vandiver on the on the blog to feature her book, A TINY COLLIERVILLE MURDER.
I asked Abby, "Why did you write A TINY COLLIERVILLE MURDER?"
She replied…
I wanted to write a book that featured my hometown – Cleveland. That's why I wrote this book.
I also wrote one of my books, SUMMER HAIKUS, so that I could feature my university, Michigan State University, and my hometown, Grosse Ile. It was fun to write, and I'm sure Abby had just as much fun including her own hometown in this murder mystery.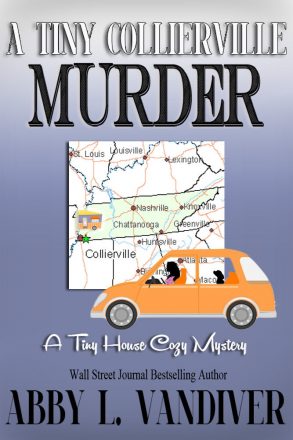 There's nothing tiny about murder!
Watch Tiny House on HGTV? Well, some of those miniature abodes are built on the Carter Ranch in Collierville, Tennessee, or so Nixie Culpepper has just been told, and she thinks they are just the cutest things! But her excitement is short lived when, not long after she lands at the ranch, she gets embroiled in a murder!
Nixie, a polyglot and black belt martial artist, is also addicted to designer wear. And while she can protect herself, and her little furry mixed-breed, Alfie, from danger, her credit cards are always being assaulted. She's got a Japanese paternal grandmother who wants to be a YouTube star, and a Yugoslavian maternal grandfather who not only thinks he's royalty, but loves Elvis, has an arsenal of corny jokes, and corresponds with Nixie regularly on FaceTime. But the murder of Big Willie Carter puts a halt to everything, and it's up to Nixie to find out whodunit if she wants to leave Collierville and get back home to Connors Grove, New York with her brand new tiny house.
Check out A TINY COLLIERVILLE MURDER on…
Amazon
---
Find This Author Online
Want to learn more about Abby L. Vandiver? You can find her online here…
Website: http://www.abbyvandiver.com
Facebook Page: https://www.facebook.com/authorabbyl.vandiver
Twitter: https://twitter.com/AbbyVandiver
Instagram: https://www.instagram.com/abbylvandiver/