I'm excited to have Carysa Locke on the blog to talk about her first book novel in the Telepathic Space Pirates Series, PIRATE NEMESIS. This is one of my favorite new series of the past year! I've read both this book and the second in the series, and I loved them both. This is also a genre I'll be writing in next year, so it was great to have it as inspiration for more stories to come.
I asked Carysa, "Why did you write the Telepathic Space Pirates Series?"
She replied…
I write this series because it is exactly the kind of story I want to read: space fantasy with a kickass heroine and an epic storyline with fun and engaging characters. I grew up a fan of the original Star Wars, and I've always come back to that love of great space fantasy. I love a story with great family drama, action, romance, and stories that have a profound impact on the characters in them.
And let me tell you, this series has it all. I was thoroughly swept away by the first book, and the second book had me totally hooked as well. This book is FREE from Wednesday, June 20 through Sunday, June 24th! Pick up the first book and then get the second one too while you're already on Amazon.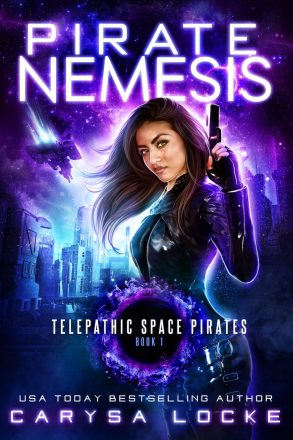 Killers. Thieves. Pirates. Family.
A fugitive from her own family, Mercy Kincaid's dangerous telepathic gifts put her life in danger and make anyone she's close to a target. When her best friend is captured and tortured, Mercy's only hope is to reunite with the family that tried to murder her as a child. But will her plan be thrown off course when she falls into the hands of an enigmatic and dangerous killer?
Reaper has vowed to kill anyone who jeopardizes the survival of his people, and Mercy's gifts are the biggest threat they've faced in eleven years. But as Reaper beings to trust the beautiful woman and her compelling abilities, he must decide if he's fallen victim to her power. Will she destroy his people, or save them? If he makes the wrong choice, everyone will die.
Check out PIRATE NEMESIS on…
Amazon
---
Find This Author Online
Want to learn more about Carysa Locke? You can find her online here…
Website: http://www.carysalocke.com
Facebook Page: https://www.facebook.com/carysalocke/
Twitter: http://www.twitter.com/carysalocke