Today, we have Pippa DaCosta here to talk about her space fantasy, SHOOT THE MESSENGER. If you may remember, I reviewed this book in my last Book Chat, so I definitely wanted to have Pippa here on the blog since the second book in the series is out today!
I asked Pippa, "Why did you write SHOOT THE MESSENGER?"
She replied…
I wanted to mix fantasy and sci-fi with my love of all-things fae.
And, people, I've gotta say that, as simple as that answer is, it's SO IMPORTANT when it comes to talking about and marketing your work. I know a ton of authors that can't sum up their book in a sentence like that. And yes, this book has great world-building plus science fiction and faeries. It's a great mix!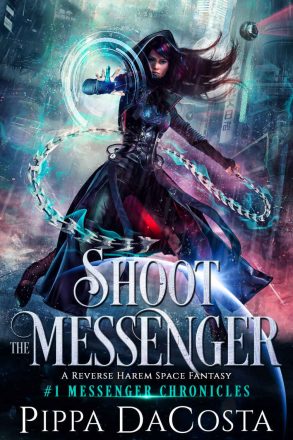 A new space fantasy series where the guys are hot, the perils are many, and one rebel messenger holds the key to the survival of the human race.
Lies aren't her only weapons against the fae…
In the Halow system, one of Earth's three sister star systems, tek and magic—humans and fae—are at war.
Kesh Lasota is a ghost in the machine. Invisible to tek, she's hired by the criminal underworld to carry illegal messages through the Halow system. But when one of those messages kills its recipient, Kesh finds herself on the run with a bounty on her head and a quick-witted marshal on her tail.
Proving her innocence should be straightforward. Until a warfae steals the evidence she needs. The fae haven't been seen in Halow in over a thousand years. And this one—a brutally efficient killer able to wield tek—should not exist. But neither should Kesh.
As Kesh's carefully crafted lie of a life crumbles around her, she knows being invisible is no longer an option. To hunt the warfae, to stop him from destroying a thousand-year fragile peace, she must resurrect the horrors of her past.
Kesh Lasota was a ghost. Now she's back, and there's only one thing she knows for certain: Nobody shoots the messenger and gets away with it.
Check out SHOOT THE MESSENGER on…
Amazon
---
Find This Author Online
Want to learn more about Pippa DaCosta? You can find her online here…
http://www.pippadacosta.com
http://www.facebook.com/pippadacosta
http://www.twitter.com/pippadacosta
---
Do you like space fantasy?
It would seem like space fantasy is a new genre, but actually, this is a genre that came from Star Wars. I've seen magic, faeries, and even dragons in space lately! Is this a genre you read a lot of? If so, hit me with some recommendations in the comments!