Today is the cover reveal for FUKUSHA MODEL EIGHT and I have pre-order links for you as well! I'm so excited with the direction of this series and where I plan to take it for the next two remaining books in the series after this. Really, the ideas are just flying and I'm super excited to get this story "in the books" so to speak. Lol.
I remember that before I started writing FUKUSHA MODEL EIGHT, I had three ideas for it. It would be a journey story, both an internal journey for Yumi and a physical one across areas of the Southern Continent. And this story would also give me a chance to remind the reader that Yumi is not a soldier. She's not a fighter in any traditional sense, she's not a general or a leader, and she's certainly not going to stop a war. She's an observer, and she was given a data device full of riches that will be both her savior and her undoing. No worries, friends! Even though I will put my characters through the wringer in this series, I foresee a happy ending… somewhere. :)
A NOTE ON PRICING: This whole series will be going through a price change in June. All of the Hikoboshi Series will be priced at $4.99 which complies with my new standard pricing for books of this length. So if you want to buy in this series, I suggest you do it now at $3.99. It is possible I will drop the price of CRASH LAND ON KURAI, but not until mid-2019.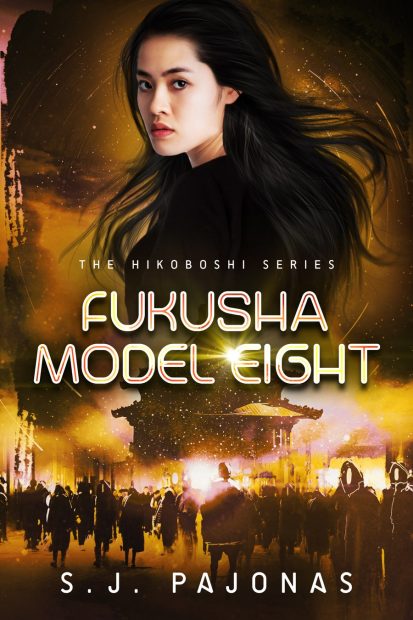 "Being human is the apex of life. It's the top, not the bottom."
Yumi is pretty sure someone's trying to kill her… and she can't remember who. Undercover and alone in one of the most dangerous cities on the Southern Continent, she's struggling to live through every day until she can find her new allies and get back to Rin. But when the mission goes wrong and Rin is kidnapped and held for ransom, Yumi must act fast. Not only are the yakuza on her tail, but the fearsome Fukusha Model Eight androids are after her too. With her short-term memory failing and war just around the corner, she can only stay alive by determining who's telling the truth and who will do anything to lie to her and steal everything she has, including her life.
Fukusha Model Eight is the third book in the Hikoboshi Series, an action adventure, space opera series that explores the worlds settled by the Japanese who fled Earth a century ago. Culture, history, technology, and swords clash in a fast-paced future society on the brink of war.
Pre-order Now! Available May 18th…
Learn more and purchase FUKUSHA MODEL EIGHT
Woo hoo! I'm super excited once again to be moving forward. My ARC Readers have this book now, and that always means I'm so close to being done. I hope you all enjoy this installment in the series!