Since many of you read my cozy mysteries, I thought you might like Death in Paradise! We started watching this show on Netflix a few weeks ago and it's been a lot fun so far. It came recommended in a Mysteries and Thrillers group I belong to on Facebook, so I added it to my Netflix queue ages ago before we finally got around to it. My husband and I had watched pretty much ALL the sci-fi shows available, and we figured this would be a great palate cleanser.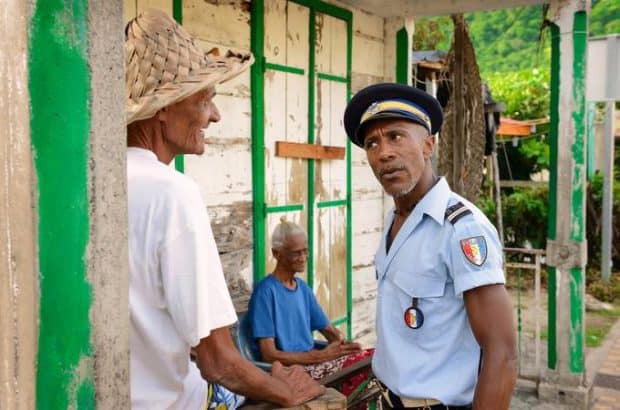 Image copyright BBC.
Indeed it is. We're only in the second season so far (so no spoilers!) but I know the cast changes soon, either in the next season or the one after that. Right now, we're enjoying watching Richard, Camille, Dwayne, and Fidel solve crimes on the fictional island of Saint Marie in the Caribbean.

Some charms include looks at island life, jokes about the French, the very Britishness of the main detective, and the various set-ups for murder. I've already been inspired by several storylines for The Miso Cozy Mysteries series! It's been a while since I watched a mystery show that I forget all the different ways a murder can play out. This show has been good for reminding me of all the different tropes I can pull from.

Plus, sigh. I love the tropics. I want to live on an island someday. Some place hot all the time. I will just be sure to not dress in a suit constantly. Lol.
I highly recommend queuing up this show. I think you'll enjoy it.
Have you watched Death In Paradise? Do you have any other mystery shows I might be interested in? Let me know in the comments!
(Images copyrighted by BBC and used here to promote the show.)