Today, we have Viv Daniels here to talk about her contemporary romance, SWEET & WILD. I love this series and its covers especially!
I asked Viv, "What was your favorite part about writing SWEET & WILD?"
She replied…
My favorite part of writing Sweet & Wild is that Hannah, my heroine, is a secret super-fan of horror movies. She's seen everything and she keeps a pseudonymous blog called The Final Girl where she discusses the horror genre and gets in debates with other fans (mostly male). And *no one* in her life knows about it. I am nothing like Hannah — I'm the biggest wimp ever when it comes to horror movies, though I'm fascinated by the genre and how it manages to say all these really interesting, subversive things while no one in high art circles is paying attention to it (a little bit like romance, amirite?) But in order to make Hannah a credible horror fan, I had to do a ton of research into what movies she'd watch and like and what she'd think about some of the more misogynistic tendencies in horror, and how she'd champion more feminist or progressive horror films instead. I think I read more plot summaries and reviews of horror films than an actual lover of the genre!
Omg, horror films scare the crap out of me! I'm with you Viv. I'm a total wimp. I cannot take them. And the funny thing is that people ask me about Japanese horror films all the time because they know I love Japan. I have nothing to recommend! Lol.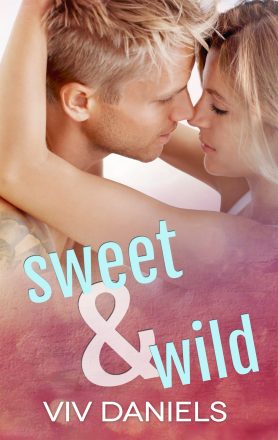 From author Viv Daniels comes a sexy new opposites-attract romance!
She's done being sweet…
Six months ago, Hannah Swift's perfect life fell apart. She learned her prominent businessman father had a secret family, she was diagnosed with a chronic illness, and to top it off, her boyfriend left her… for her own half-sister. She's ready to put the past behind her, but her wealthy, image-obsessed parents are insisting that she finish college on their terms and keep setting her up on blind dates that feel more like corporate mergers. Hannah's had enough.
Now it's time to get wild…
Enter Boone, a bad boy with a pick-up truck, a killer smile, and a sexy dare: one night, no rules. Except what starts out as a fling soon turns serious. Boone is everything Hannah has never allowed herself to want, but he may be exactly what she needs.
Yet behind the gorgeous blue eyes and well-worn jeans, Boone has secrets of his own. When their pasts come crashing down, who will be there to pick up the pieces?
Check out SWEET & WILD on…
Amazon Apple Books Nook Kobo Google Play
---
Find This Author Online
Want to learn more about Viv Daniels? You can find her online here…
https://www.facebook.com/vivdanielsbooks/
https://twitter.com/VivDaniels
---
Do you like horror films?
I'm a huge wimp and cannot watch horror films. Suspense films are hard for me too, but I make myself watch them anyway (through my fingers). :)