Today, we have Erin Huss here to talk about her cozy mystery, FRENCH VANILLA & FELONIES.
I asked Erin, "What inspired you to write the Cambria Clyne Mysteries?"
She replied…
I've been blogging at The Apartment Manager's Blog for seven years now, where landlords from all over the world send me stories and pictures. It's a hilariously awful industry filled with hoarders, drug dealers and, yes, the occasional murder. I knew it had to be a book!
Let me tell you, friends. I ordered this book right away. After living in New York City for over 10 years, I saw my fair share of apartment drama (and was involved in some drama myself, accidentally) so I just know there's going to be some great plots in this mystery series. I can't wait to read it!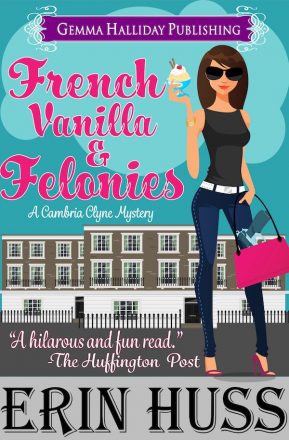 From author Erin Huss comes an "uproariously funny" (InD'Tale Magazine) new mystery…
When Cambria Clyne—klutzy, twenty-something single mom—takes the job of an apartment manager at an LA complex, she hopes her run of bad luck is finally coming to an end. She's got a nice home for her daughter, a steady source of income, and the cute maintenance guy is certainly a nice perk! But her luck takes a bad turn again when a dead body turns up, a crime spree takes over the community, and Cambria finds her complex squarely at the center of it all!
With her dream job suddenly on the line, Cambria dons her detective hat to get to the truth—after all, she's watched enough crime shows on TV to know how to catch a perp! Or so she hopes as she wades through a streaker in apartment 40, an ex-con with a shady agenda, an overly frisky retired couple, and the suspiciously sneaky dealings of the dentist in apartment 36. But will Cambria be able to catch a killer… or will she get caught up in his game and lose it all?
Check out FRENCH VANILLA & FELONIES on…
Amazon Apple Books Nook Kobo Google Play
---
Find This Author Online
Want to learn more about Erin Huss? You can find her online here…
http://www.facebook.com/authorerinhuss
http://www.facebook.com/theapartmentmanagersblog
http://www.twitter.com/erinhoganhuss
http://www.instagram.com/erinhuss
---
Have you ever managed a property?
I have never managed property but I know a ton of people who have! If you've managed a property before, what's a fun story you like to tell people about the property and the people who live there?